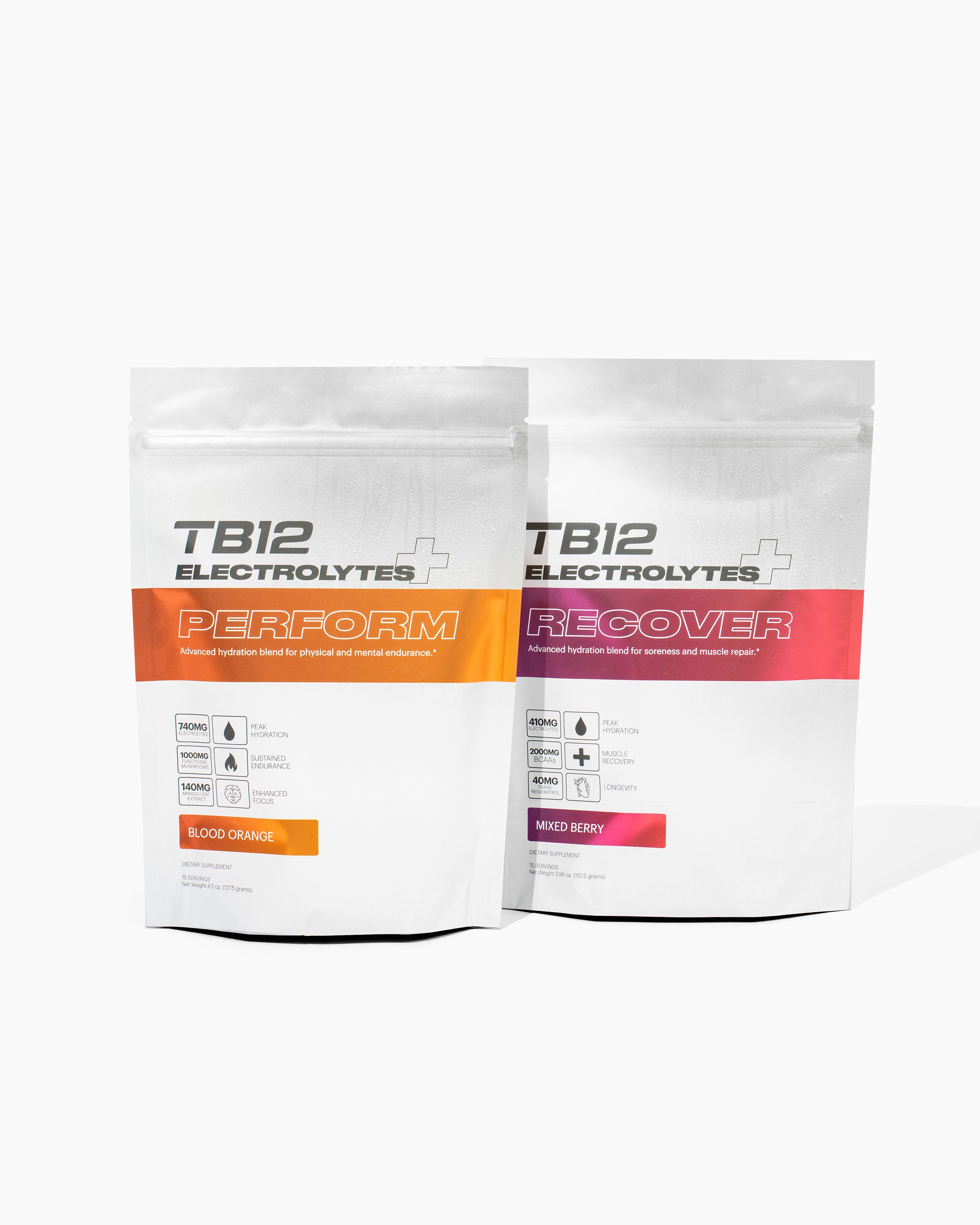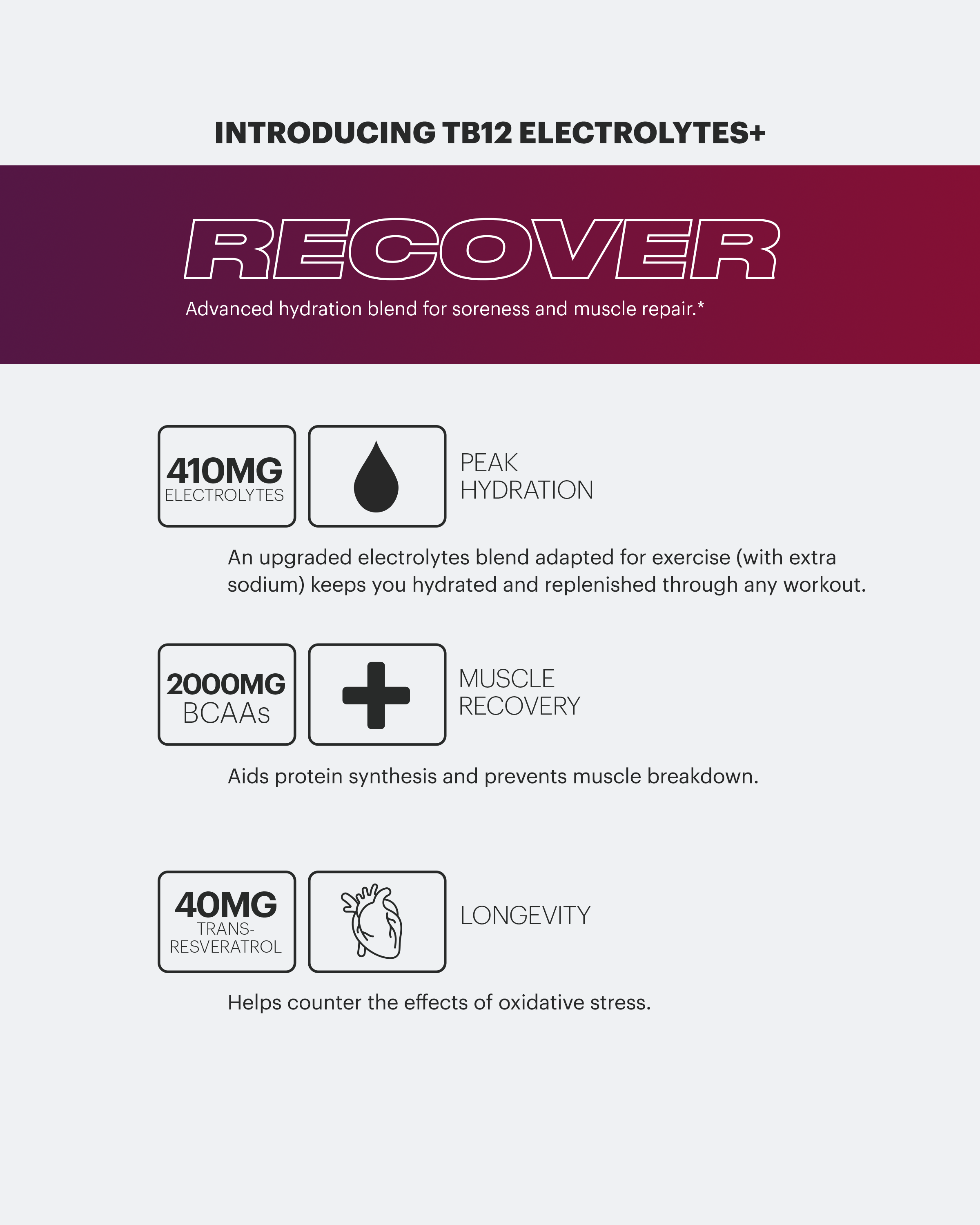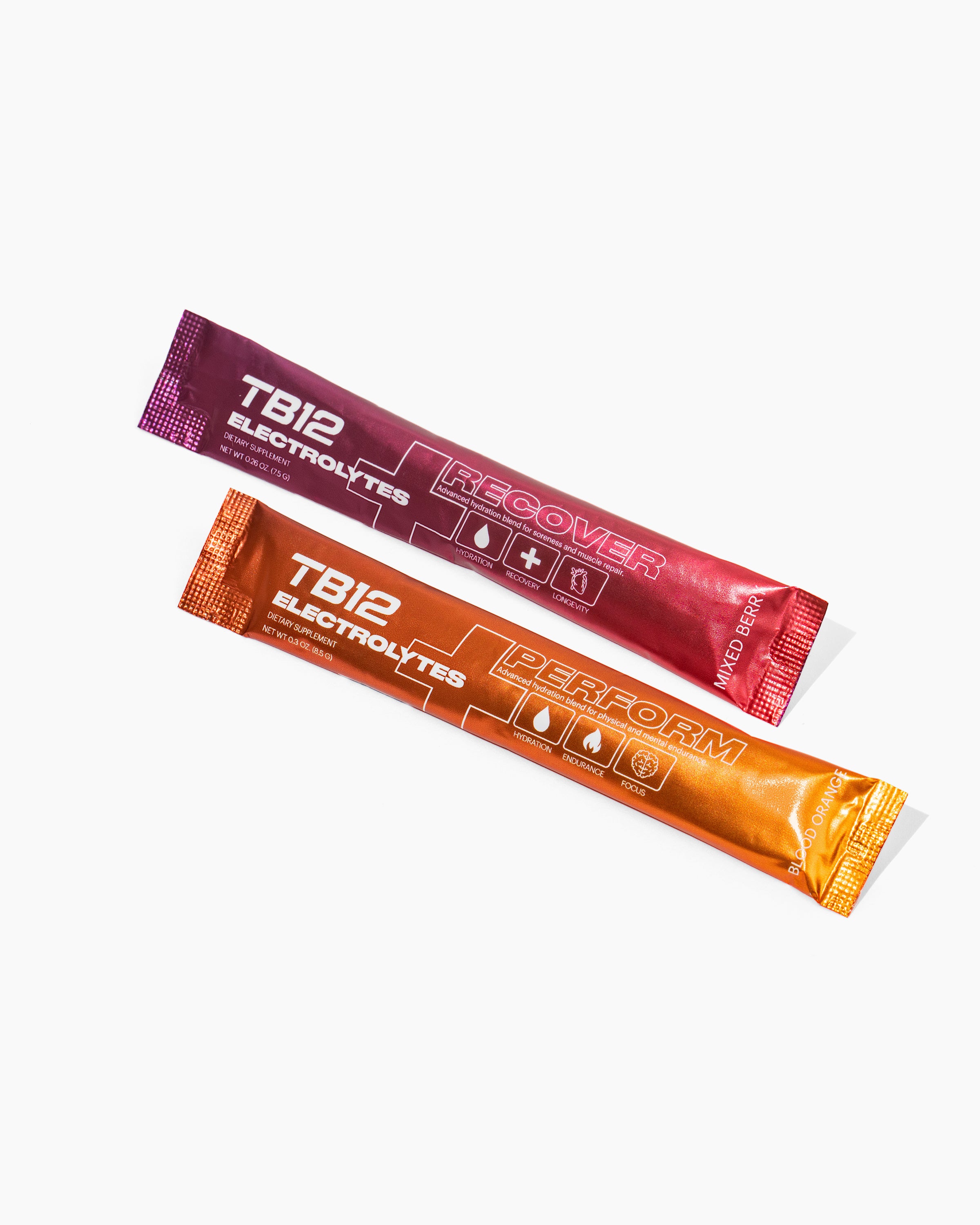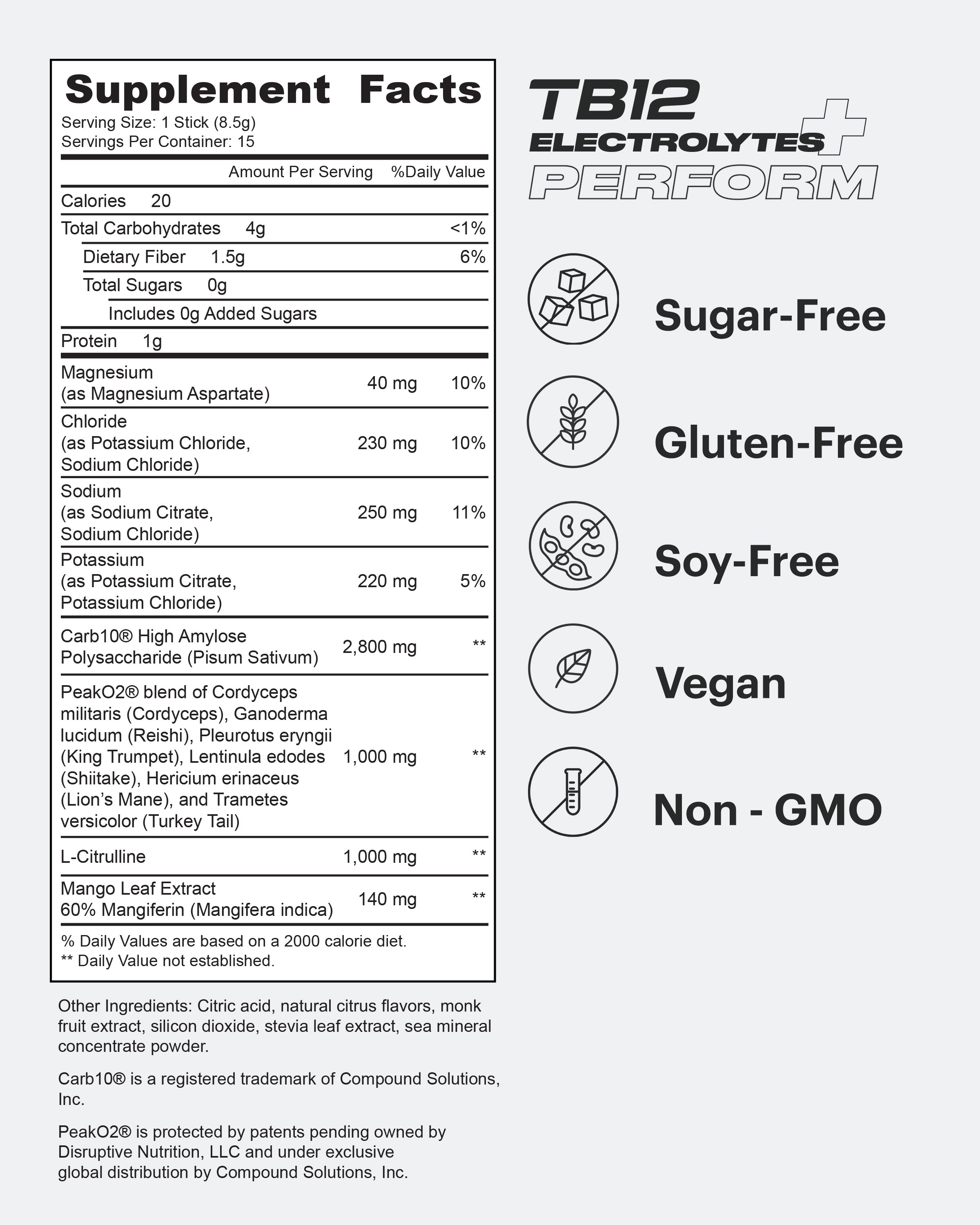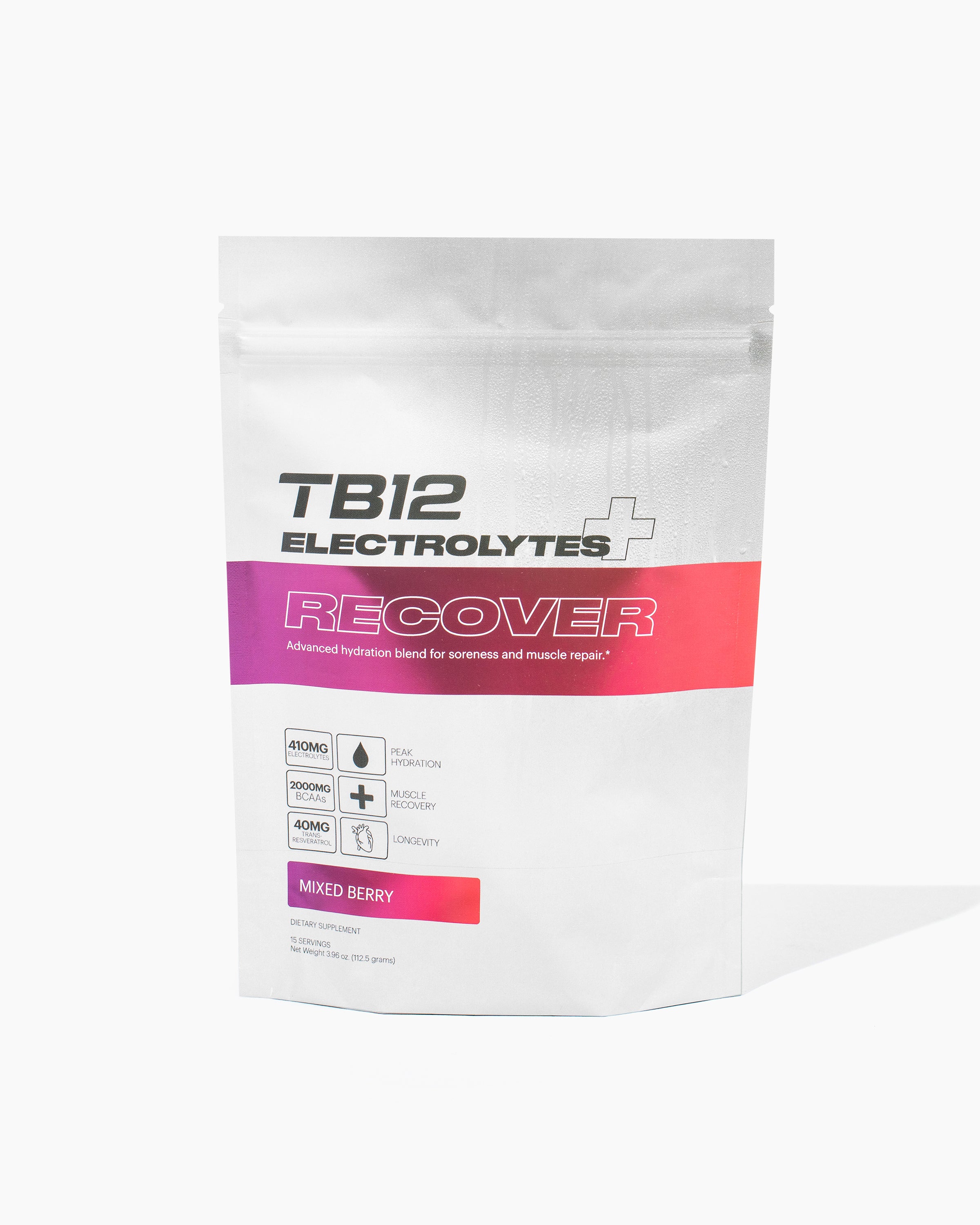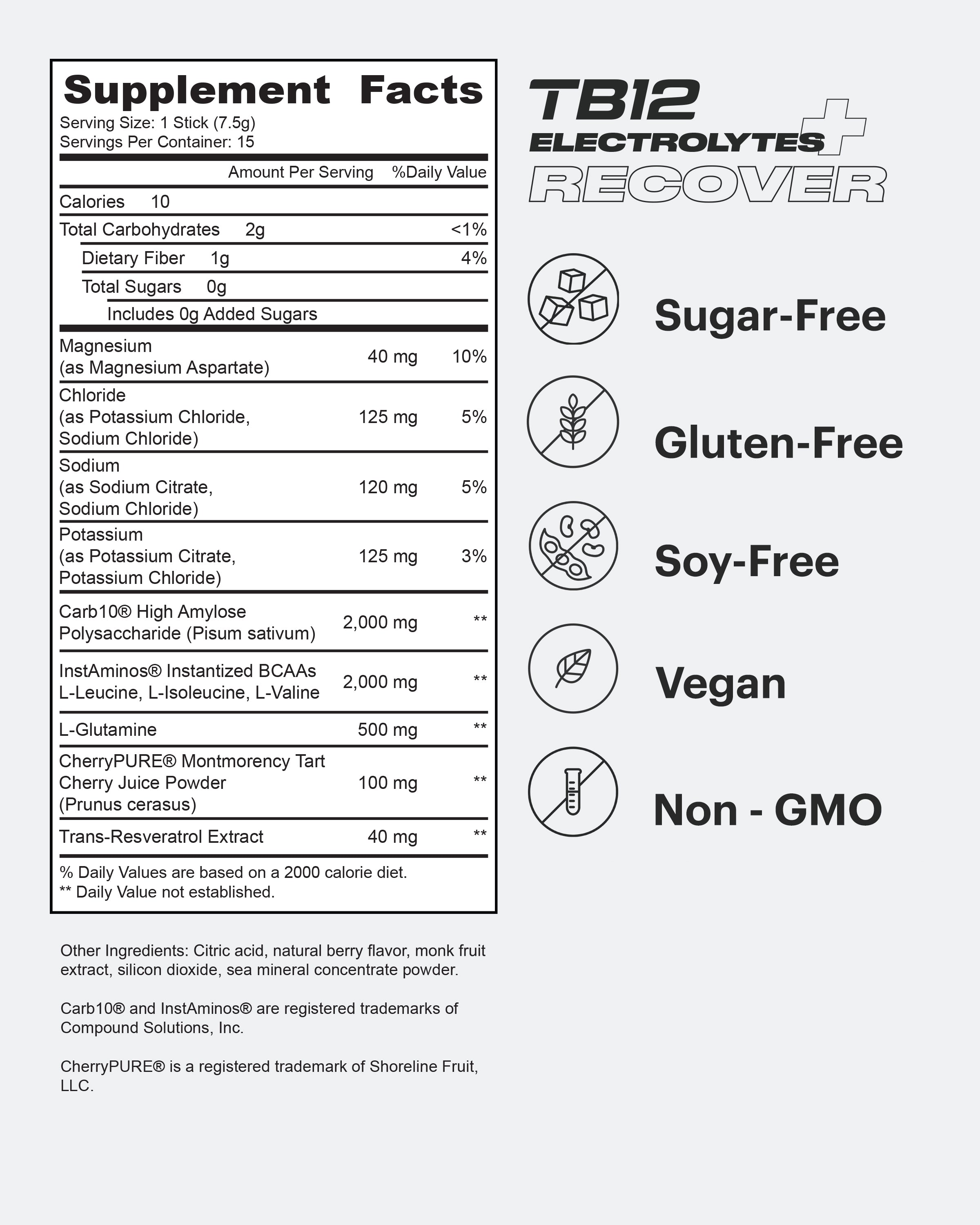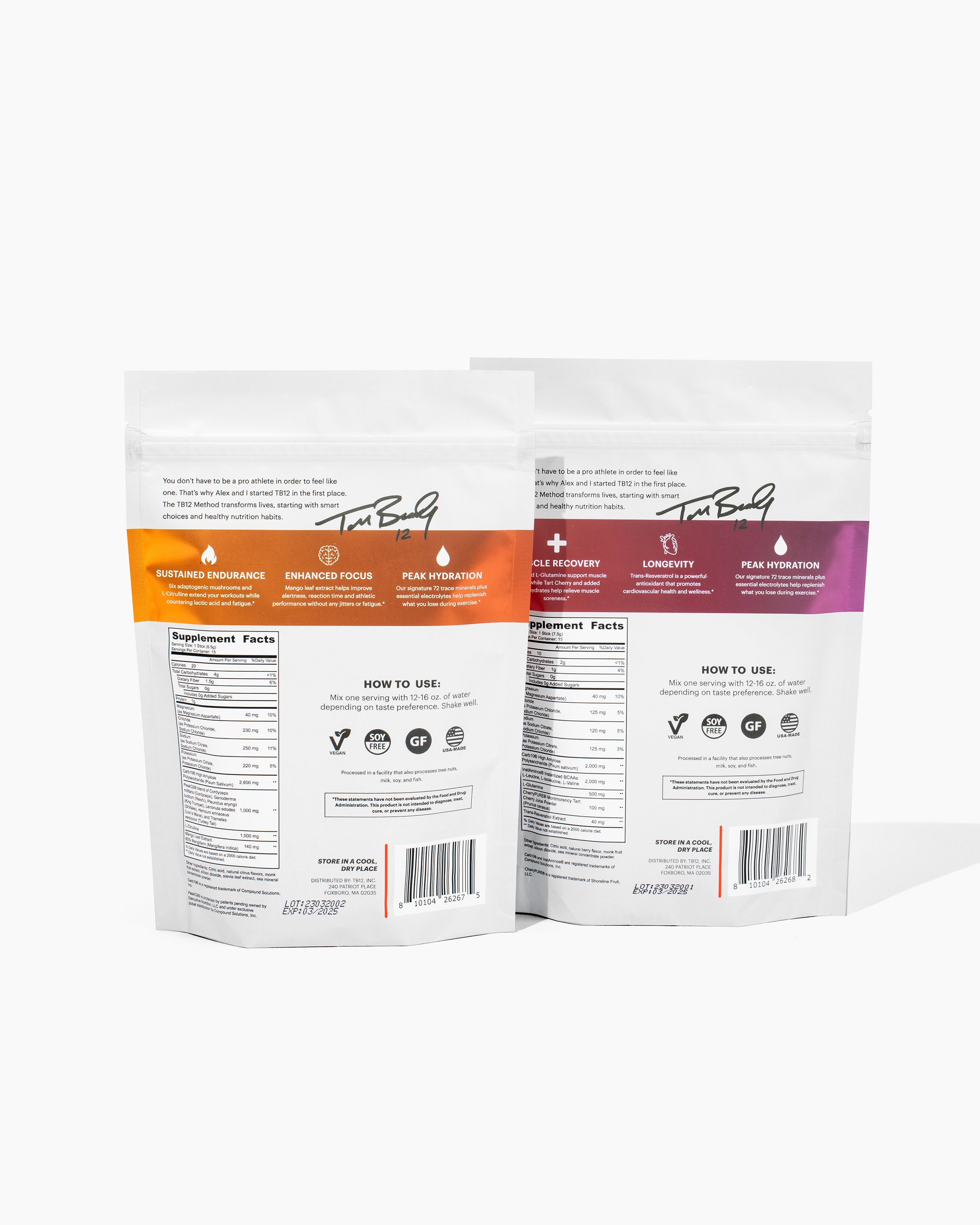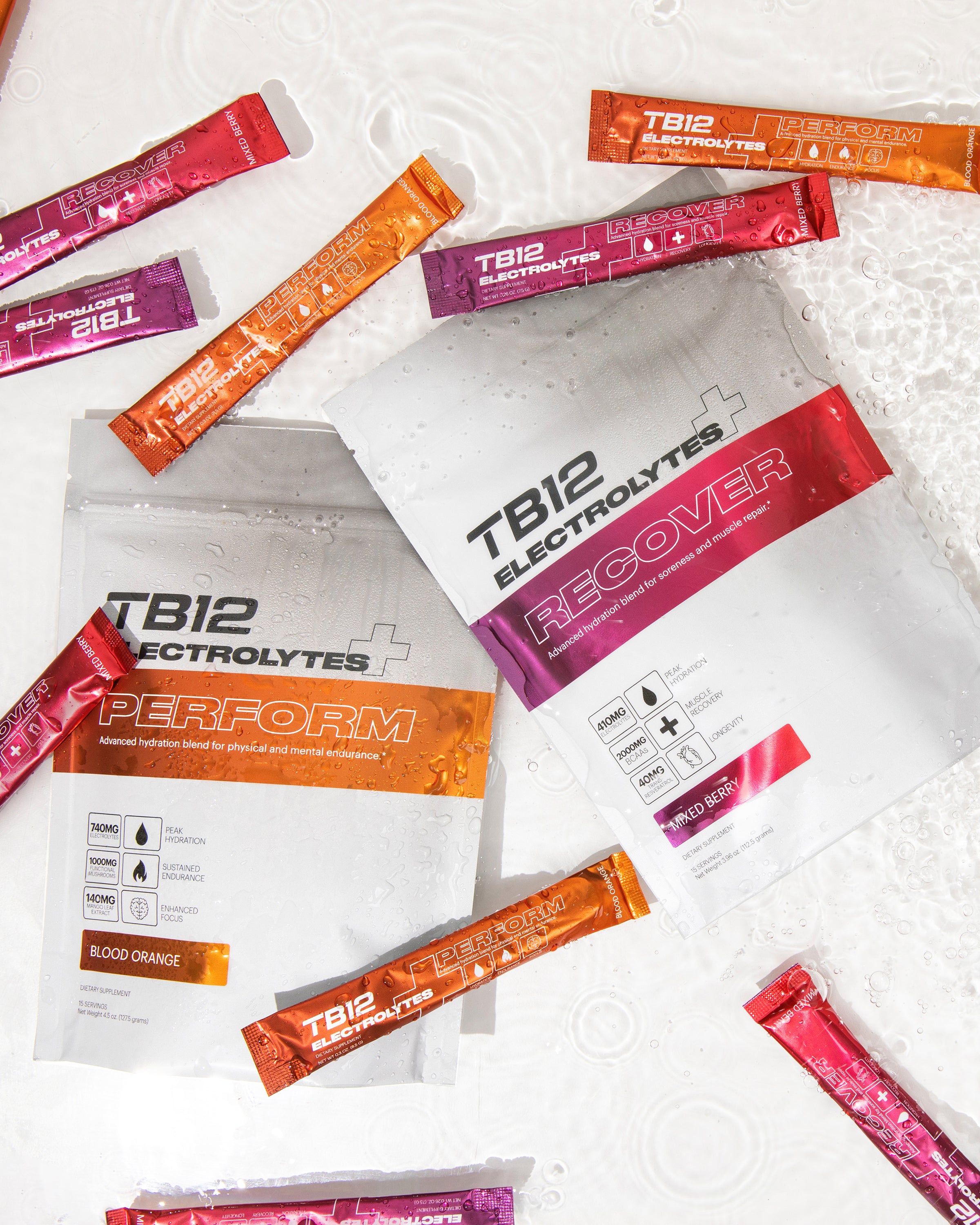 TB12 Electrolytes+ Perform & Recover Set (15ct Powder)
Our TB12 Electrolyte+ Perform & Recover work together so you can get the most out of your workout and recovery while staying hydrated.
Both Perform & Recover are made with sport-enhanced electrolyte blends and low-glycemic carbohydrates for optimal hydration. Perform uses functional ingredients to help you focus and extend endurance during exercise.* Recover is made with ingredients to support soreness relief and muscle recovery after exercise.*
Advanced electrolyte blend for performance & recovery
Perform: Supports energy, focus, and endurance
Recover: Supports muscle recovery and inflammation
Sugar, gluten, soy, and GMO-free
If you're looking for next-level hydration, these electrolytes are for you.
Advanced electrolyte blend for performance & recovery
Perform: Supports energy, focus, and endurance
Recover: Supports muscle recovery and inflammation
Sugar, gluten, soy, and GMO-free
PERFORM
1000 mg Functional Mushrooms - A blend of cordyceps, reishi, lion's mane, king trumpet, shitake, & turkey tail to improve endurance & power output.*
1000 mg L-Citrulline - Stimulates nitric oxide production to increase blood flow, counter lactic acid, and support energy & endurance.*
140 mg Mango Leaf - A natural nootropic that supports focus & reaction time* so you can stay motivated throughout your workout.
2800 mg Carbohydrates - Low-glycemic & gluten free carbohydrates provide energy & boost stamina without spiking blood sugar.*
740 mg Electrolyte Blend - Upgraded electrolytes blend with extra sodium, adapted for exercise keeps you hydrated & replenished through any workout.
RECOVER
2000 mg BCAAs - Aids protein synthesis & prevents muscle breakdown.*
2000 mg Carbohydrates - Assists in replenishing glycogen storage after exercise.*
500 mg L-Glutamine - Helps exercise performance, endurance, & muscle recovery.*
100 mg Tart Cherry - Promotes a healthy anti-inflammatory response & soreness relief.*
40 mg Trans-Resveratrol - Helps counter the effects of oxidative stress.*
Vegan
Free from: Dairy, Gluten, Soy, Sugar, and GMOs
Directions
Mix 1 serving into 20+ oz. of water and shake or stir until fully dissolved. Use the Sport Shaker Bottle for best results.
Use
Perform - Take 30 minutes before your workout for optimal results.
Recover - Take 30 minutes after your workout for optimal results.
Recommendation
We recommend drinking half your weight in ounces of water per day. Daily intake depends on your activity level.
---
15 Individual stick packs per flavor
Store in a cool dry place. Do not exceed recommended dose. Consult your physician before taking if you are pregnant or nursing, under the age of 18, or have a known medical condition. Keep out of the reach of children.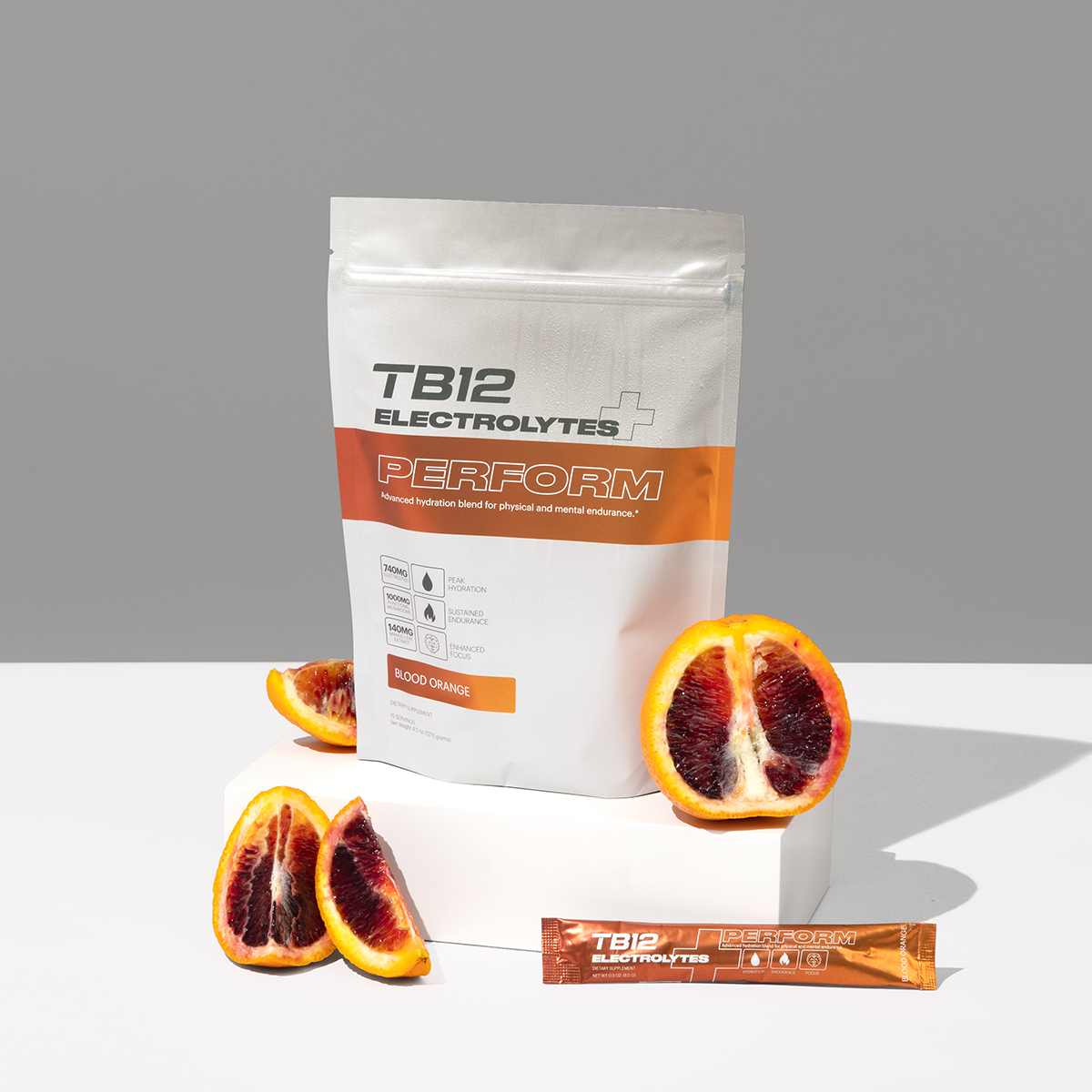 TB12
Electrolytes+ Perform
Hydration is the foundation of performance. But some activities require an extra boost. If you've ever felt tired, distracted, or dragged through a workout, these electrolytes are for you.
With more sodium than our standard electrolytes, a blend of low-glycemic carbohydrates, and performance-focused adaptogens, this formula ups the hydration while giving you more energy, focus, and endurance for training.*
TB12
Electrolytes+ Recover
Hydrate better and recover faster with five science-backed ingredients (tart cherry, BCAAs, l-glutamine, trans-resveratrol, & carbohydrates) to help reduce soreness & kickstart recovery.*
Build Your Hydration Routine
Hydration is all about consistency; building a routine around your lifestyle is key.
From training days to rest days to every day, here are some guidelines to get you started.
01. PRE-TRAINING HYDRATION
Drink 20 fluid ounces of Electrolytes+ Perform-enriched water to ensure your body is hydrated and energized with sufficient electrolyte levels.
02. POST-TRAINING HYDRATION
Drink Protein Powder within 20 mins. This accelerates your recovery & enhances your hydration.
Then, fully replenish your body by drinking 24 ounces of Electrolytes+ Recover-enriched water. Continuing to hydrate every 3-4 hours.
03. DAILY HYDRATION
We recommend drinking half your body weight in fluid ounces of water every day, with the support of our base Electrolytes.
example: If you weigh 150 lbs, you need to drink a minimum of 75 fl.oz. a day.
*These statements have not been evaluated by the Food & Drug Administration. This product is not intended to diagnose, treat, cure, or prevent any disease.
Electrolytes
Amazing, even good for hangovers
Great New Product
I have been taking TB 12 electrolytes for about 3 years now. And I have to say these two are my favorites. I hope soon that both come in a 30 day supply like the others.
Best TB12 Product
I love these and they are such a unique product. The other electrolyte offerings are fine but these ones are almost like drinking an energy drink for the extra alertness they give you. Unlike an energy drink I have not noticed any downsides with these. The recover one I have noticed an impact in reducing muscle soreness after a workout or a night sleeping on the couch. The performance one, probably even more a boost to alertness... You have to really mix it well if you are going to use a 16oz bottle and the flavour is stronger than the regular electrolytes, but I have given these electrolytes to multiple others and everyone has loved them. I'm adding them on as a regular subscription... TB12 has done a really great job with R&D developing new products and IMO this is the best one yet. I hope that they continue innovating and developing more offerings like this.
Best performance results
Within a week of starting with these electrolytes, I experienced a noticeable increase in my stamina & endurance. The flavors of all of these electrolytes are really nice. The Performance one does need to shaken every time prior to drinking due to the settling at the bottom but the Recovery one doesn't seem to have that settling problem.
I also did some comparison shopping in my area and found the TB12 electrolytes were the best value for the quality and pricing of their products.
Like It: The Set
Nice set!!! I find the Recovery Electrolytes more tasty 😋 than the Perform now! The cool tube packets are easy to deal with and open— take with me or keep handy in my purse. Tom and TB12, thank you!!!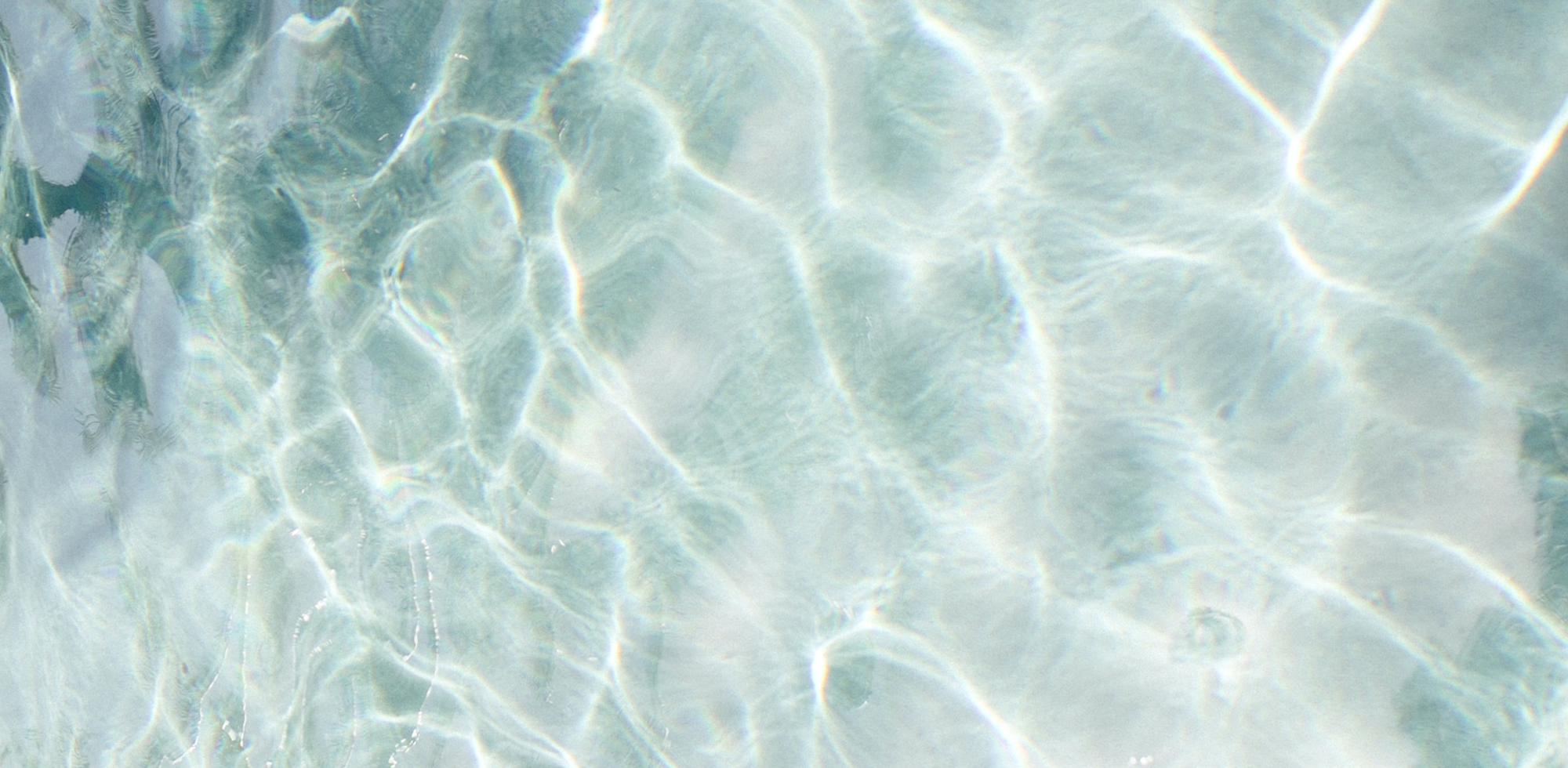 GET YOUR FREE
HYDRATION GUIDE
Everything You Need To Know
About Electrolytes