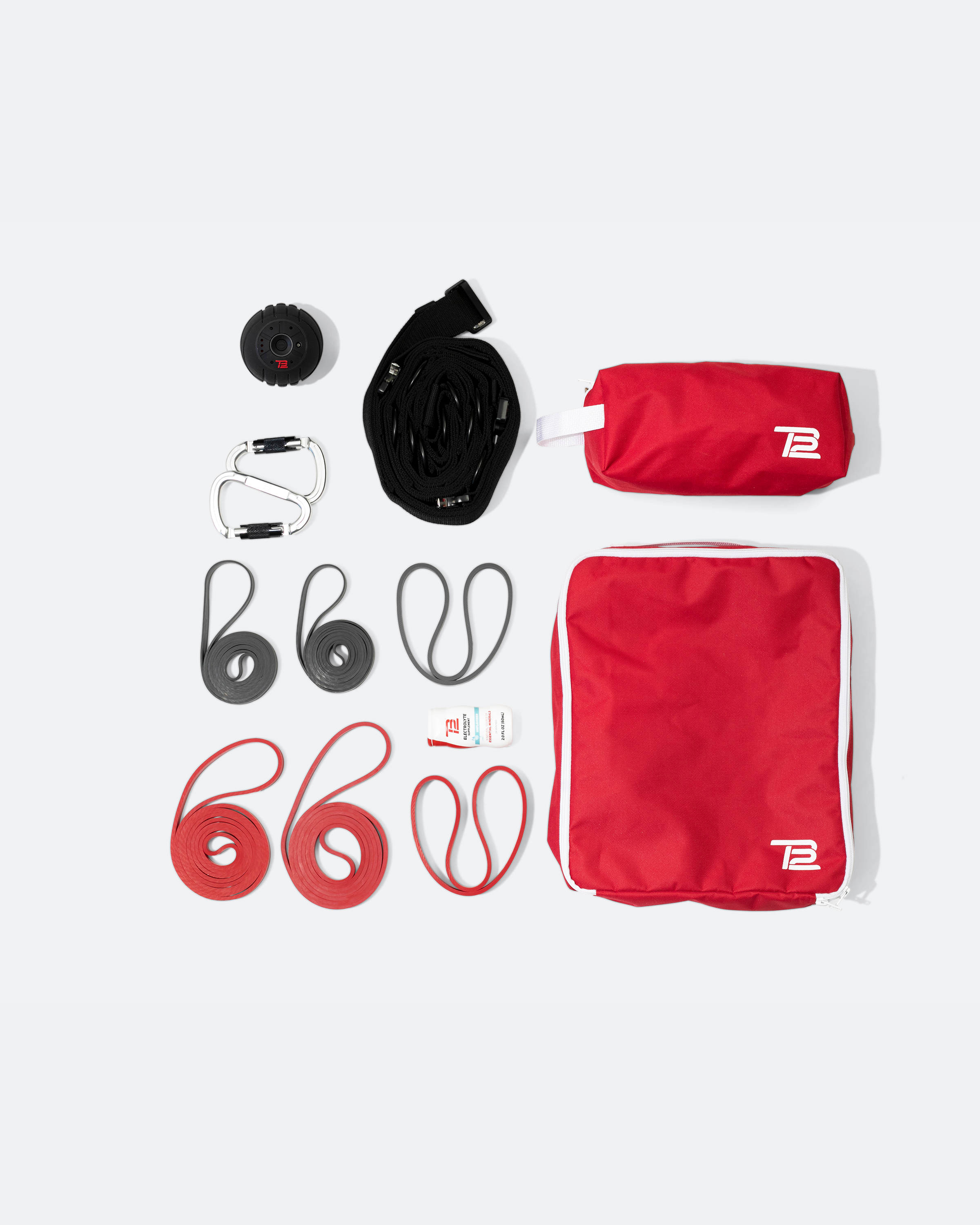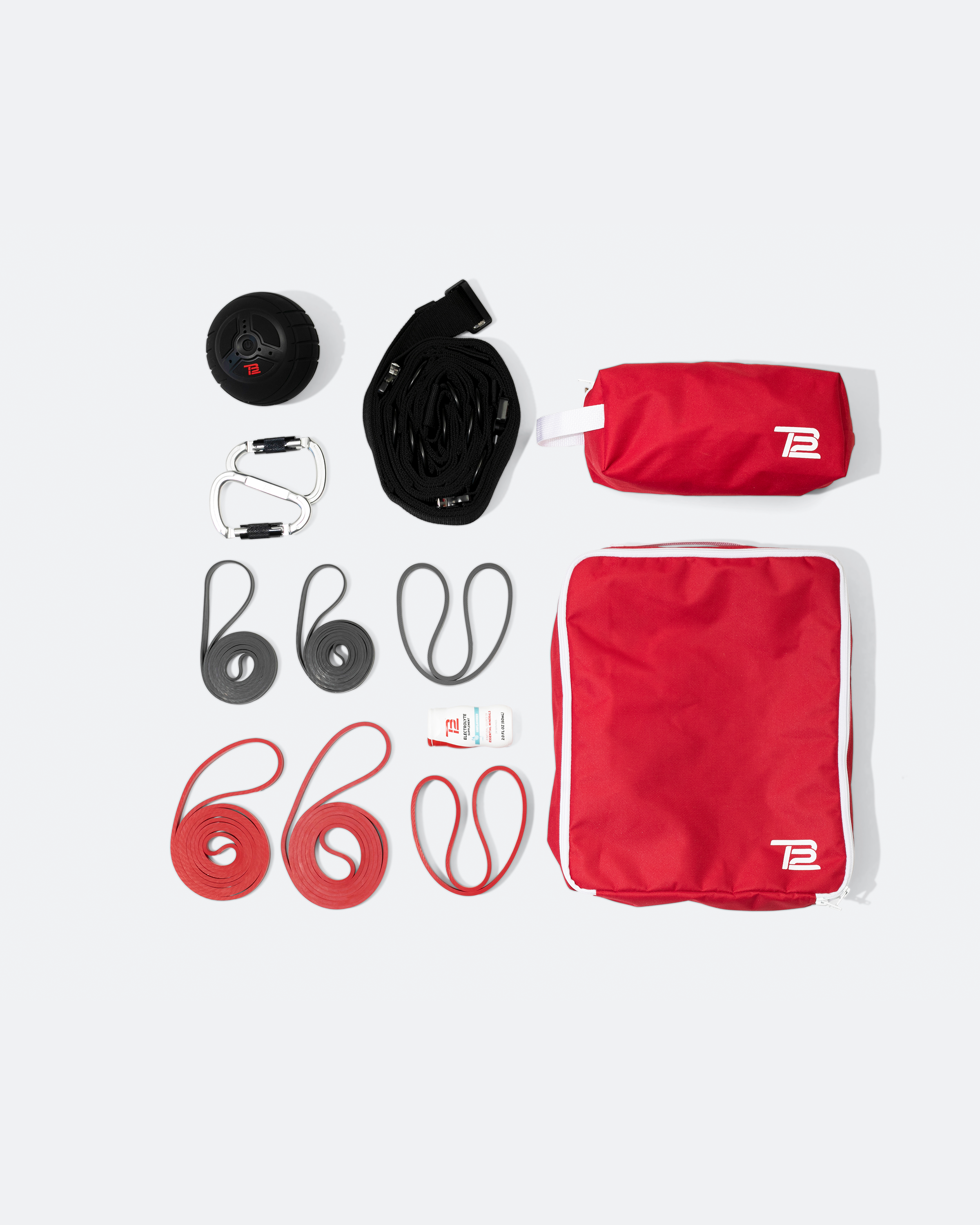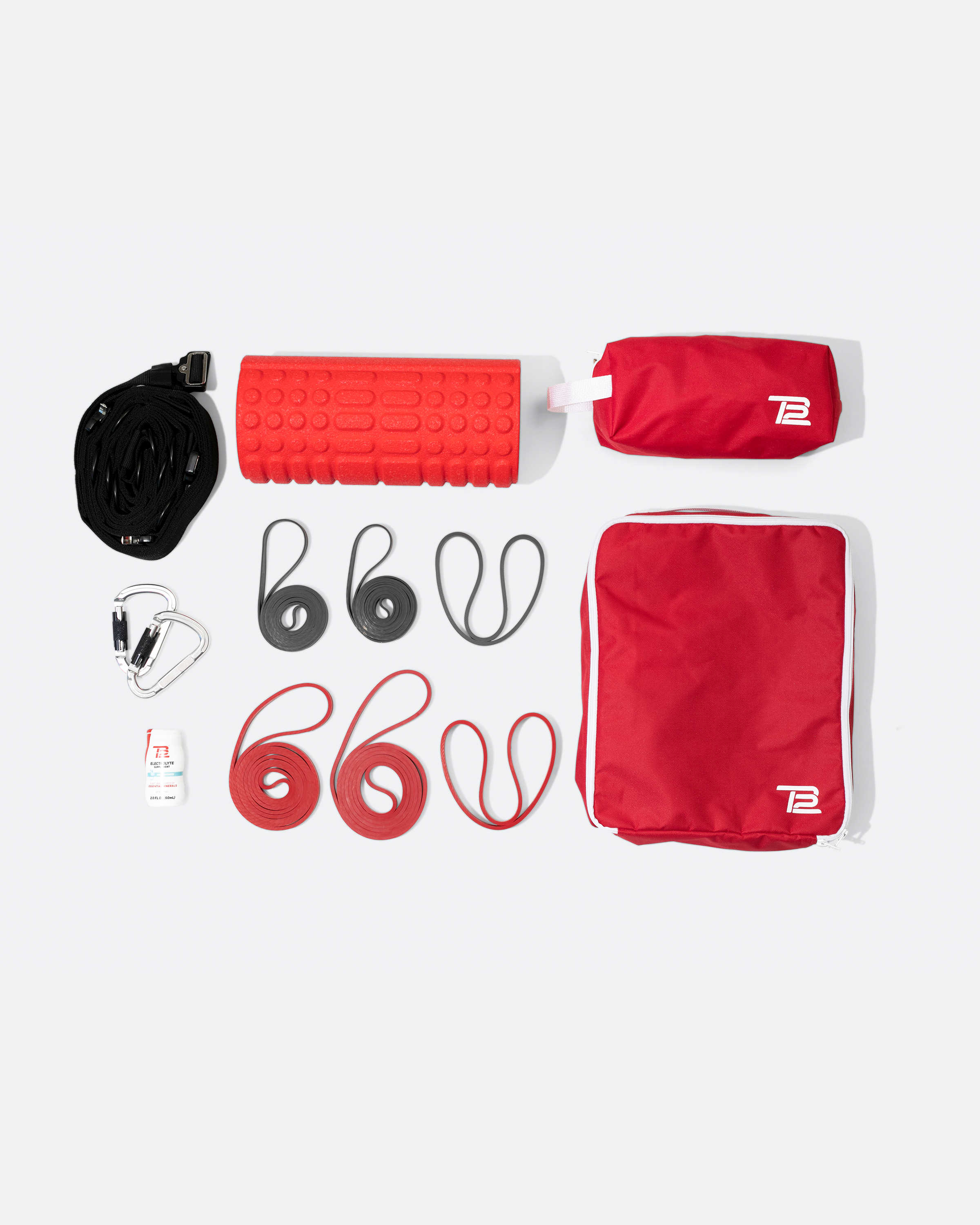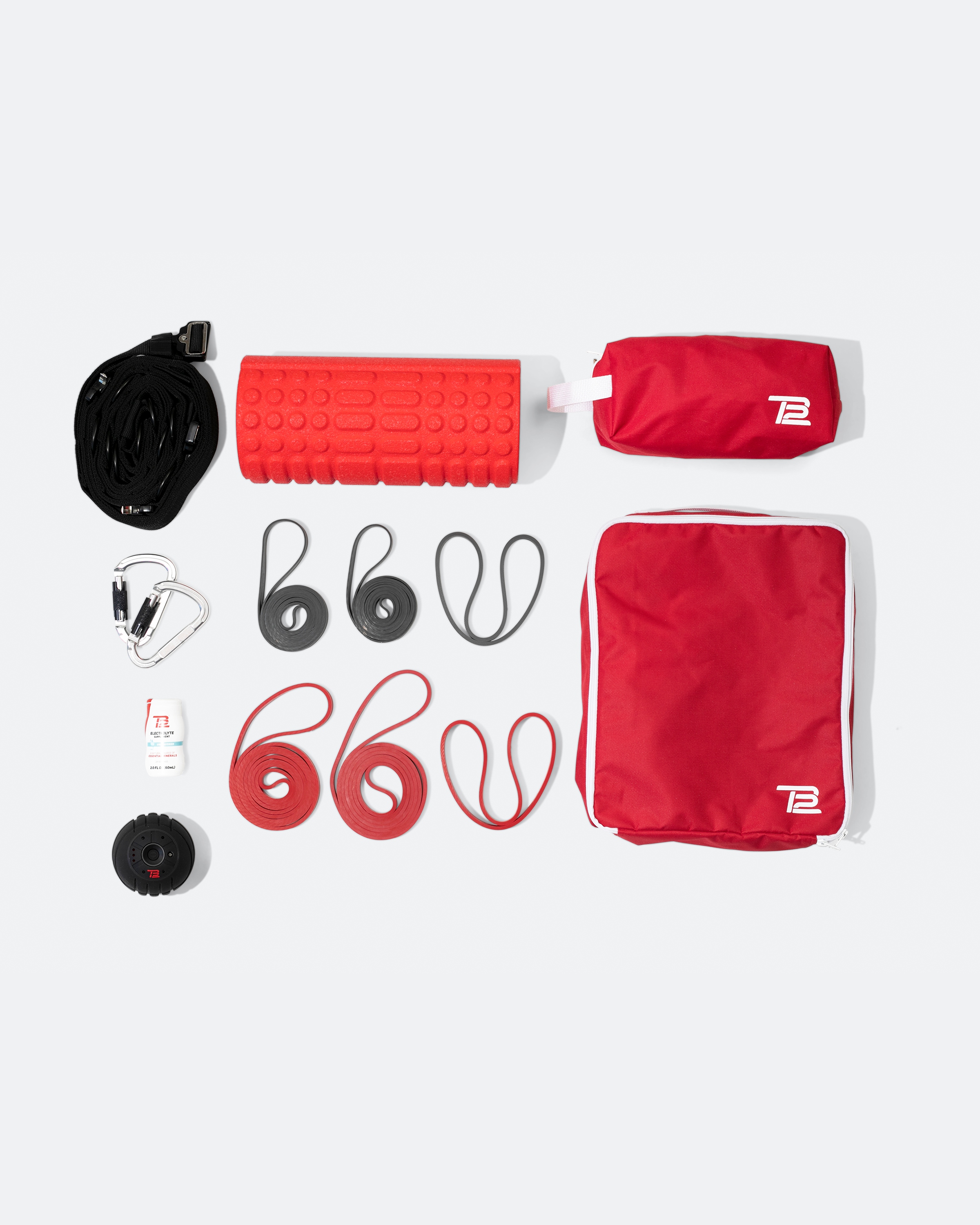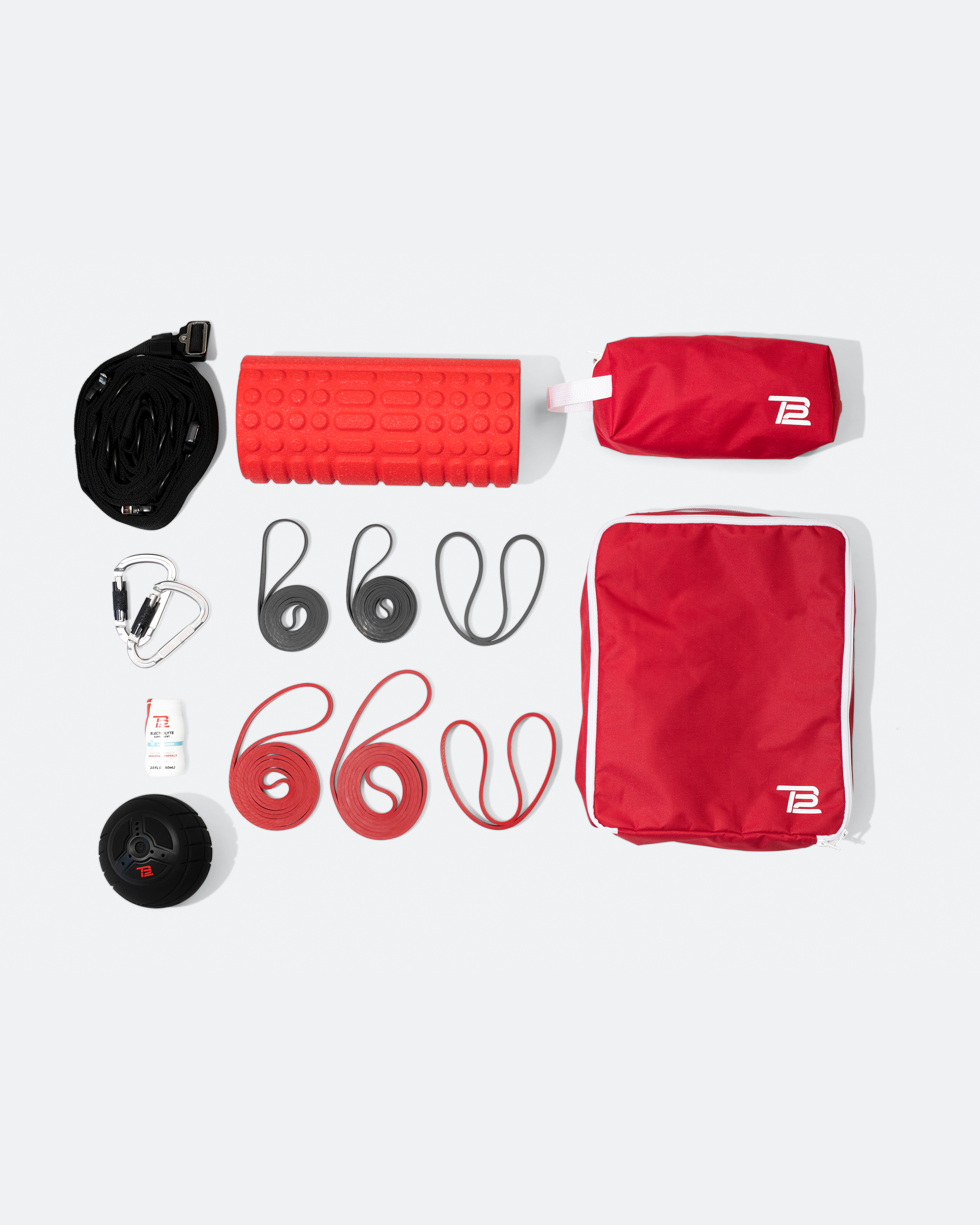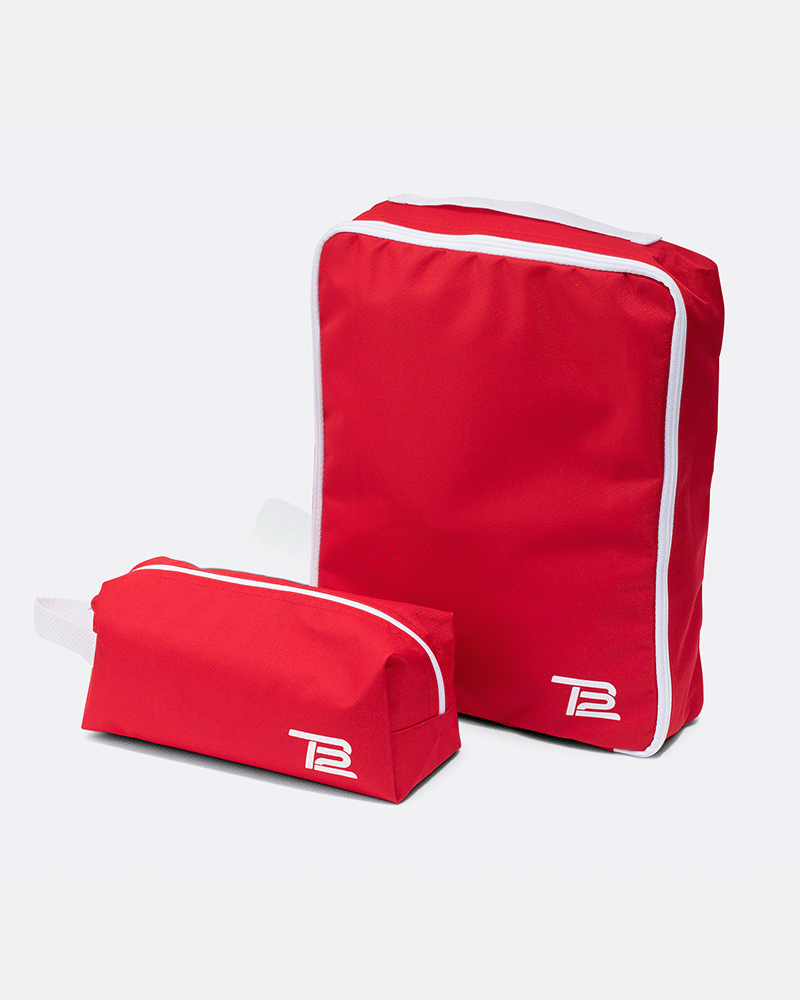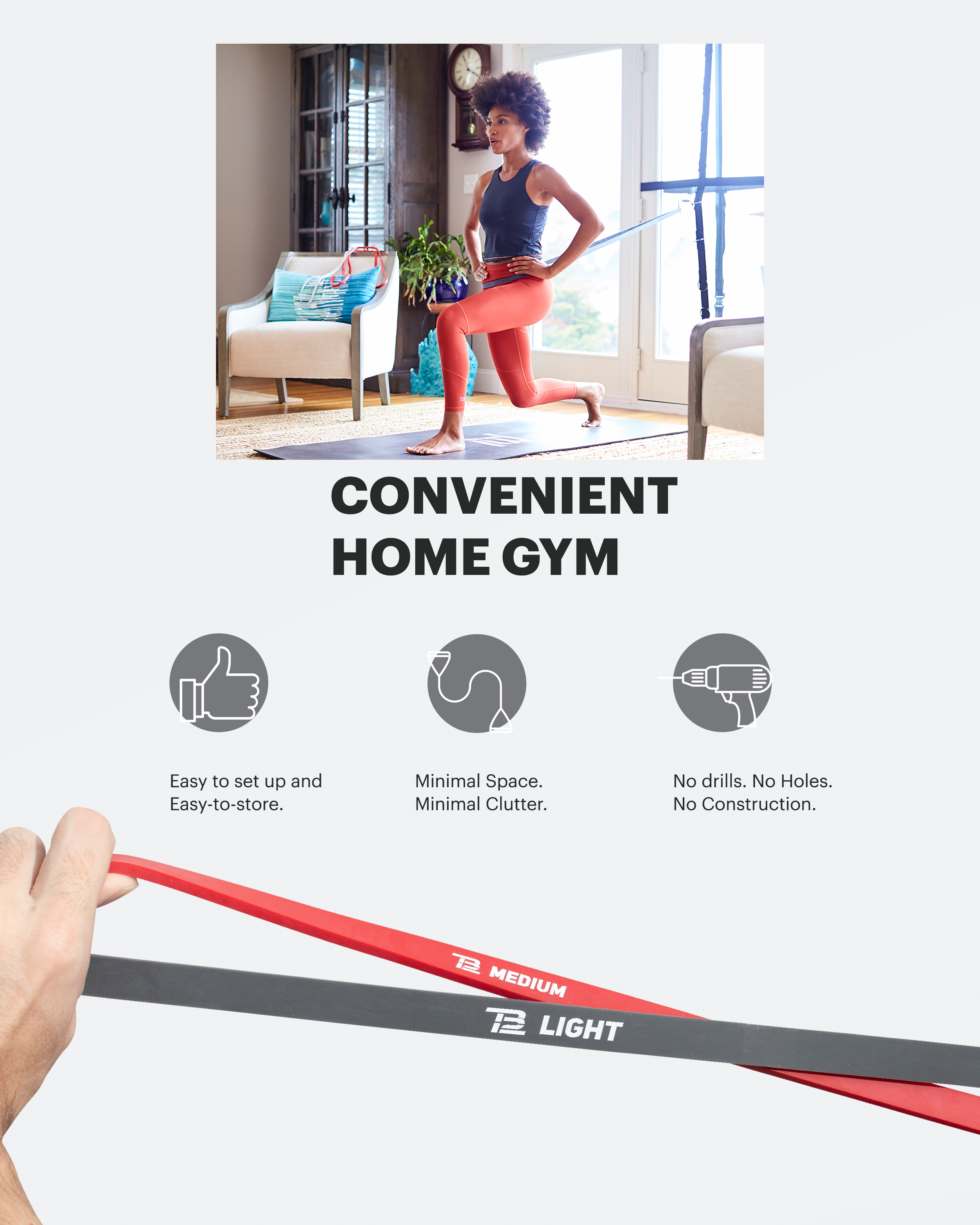 TB12 Starter Home Gym Kit
Start building your TB12 home gym with the TB12 Starter Home Gym Kit, giving you everything you need to start living the TB12 lifestyle with a curated assortment of products for your equipment and nutrition needs. This kit includes some of our favorite nutrition and equipment products to get you started with the TB12 method.
Easy to Set Up Anywhere

Wide Assortment of Bands

Total Body Activation and Recovery
Product Features:
Your choice of Pliability Device
1 Bottle Unflavored Electrolytes
1 Gray Short Looped Band – 7-33 lbs.
1 Red Short Looped Band – 11-54 lbs.
2 Gray Long Looped Band – 4-19 lbs.
2 Red Long Looped Band – 7-32 lbs.
1 Door Anchor
2 Carabiners
1 Small Storage Bag
1 Medium Storage Bag
Equipment:
At home resistance training without taking up space or the hassle of weights.
Portable for use anywhere.
No drills, no holes, no construction.
Avoid strain on joints.
Train with functional movement.
Hundreds of moves & endless workouts.
Promotes total-body activation, targeting all muscle groups.
Vibrating Pliability Device:
Accelerates warm-up & recovery.
Alleviates soreness & tension for better mobility through deep-tissue manipulation.
Helps develop positive brain-to-muscle neural pathways.
Exterior material makes it easy to apply additional pressure & work muscles deeply while keeping the Device in place.
Bi-directional frequency selector for easily varying intensity.
Your choice of Pliability Device
1 Bottle Unflavored Electrolytes
1 Light, Short Looped Band (Gray): 7 - 33 lbs.
1 Medium, Short Looped Band (Red): 11 - 54 lbs.
2 Light, Long Looped Band (Gray): 4 - 19 lbs.
2 Medium, Long Looped Band (Red): 7 - 32 lbs.
2 Carabiners
1 Door Anchor
1 Small Storage Bag
1 Medium Storage Bag
Directions
Use
Total body activation & recovery.
At-home workouts for resistance training to allow big, fluid range of motion without strain.
Pliability Device: Use for at least 5 minutes during pre & post workout routines to help protect & recover the body from injuries.
Resources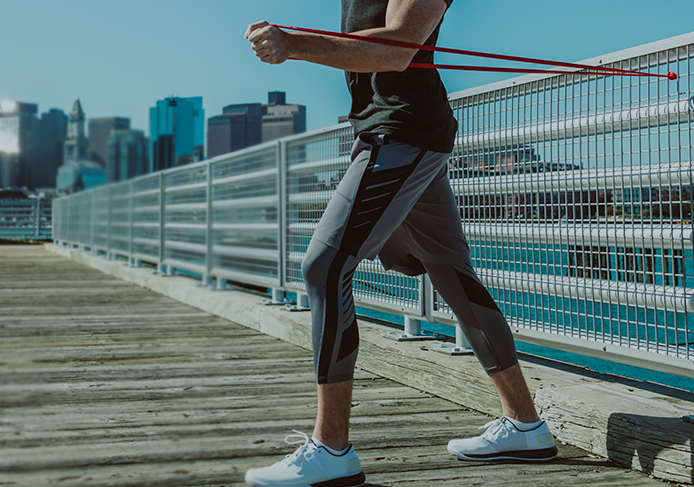 The Benefits Of
Resistance Training
Training with Resistance Bands allows for big, fluid range of motion without the strain.
They help build strength & power while keeping your muscles more supple & less dense than they would be if you used heavy weights.
By targeting accelerating & decelerating muscle groups at the same time without overload, bands can mirror your body's normal, everyday functional movements.
Customer Service
Customer service provided immediate follow up. I appreciate that. Thank you.
John Phillips
Great starter Kit.
Has all the basics that are needed.
Wonders for my Posture 🙏
Overwhelmed with gratitude because I was not a workout person before, only played Field Hockey and Ran. So now I have these sensational tools thanks to you. I have the medium red Bands and the light black Bands, and they serve my frame and exercise routine epically. I appreciate the exercise routines available for us on TB12 App & YouTube & Instagram. I also have noticed that I have incorporated my own movements with these sweet Bands, just rhythmic movements of body. I've found any movement with Bands work to feel a rejuvenating burn stretch build type of feel. These are the mainstay. These are what guide and add to my movement of exercise and make me want to exercise. I am grateful so much especially because I've felt my posture move back to where it was before, my left shoulder, it's becoming aligned again. Thank you a whole lotta love Team 🤘🎸🐐💗🦦🤎
Everything I need to start
First and foremost. The pliability roller is a game changer. I use it every day. The bands are perfect to start out some basic workouts right away. The door anchor is functional, and the TB12 app is extremely helpful for whenever I need new workouts to reinvigorate my routine. Thank you TB12. You're a life saver.
TB12 Starter Home Gym Kit
TOTAL BODY
Strength & Conditioning Guide
Vibrating PLIABILITY Devices
How To Get Started