Tough workouts, long days, and mental & physical stress can leave you - and your immune system - burnt out. Enter TB12 Protect: Made from 5 ingredients shown to support your immune system and energy levels so you can stay active, resilient, and ready for whatever comes your way.*

Supports a healthy immune response*

Promotes a healthy inflammatory response*

Antioxidant support*
Supports a healthy immune response*
Promotes a healthy inflammatory response*
Antioxidant support*
500 mg Larch Tree Extract - A natural source of dietary fiber.*
350 mg Elderberry - Provides antioxidant support.*
250 mg Beta Glucan - Supports a healthy immune response during times of stress.*
120 mg Vitamin C - Provides antioxidant support against oxidative stress.*
11 mg Zinc - Supports a healthy immune system.*
Free from: Dairy, Gluten, Soy, and Artificial Colors & Binders
Directions
Take 2 capsules in the morning, ideally with food.
---
60 Capsules / 30 Day supply
Store in a cool dry place. Do not exceed recommended dose. Consult your physician before taking if you are pregnant or nursing, under the age of 18, or have a known medical condition. Keep out of the reach of children.
5-IN-1 IMMUNE SUPPORT
When it comes to performance & recovery, you need a solid healthy base. We've paired 5 immune-supporting ingredients to help strengthen your body's natural defenses so you can make the most of your active day.*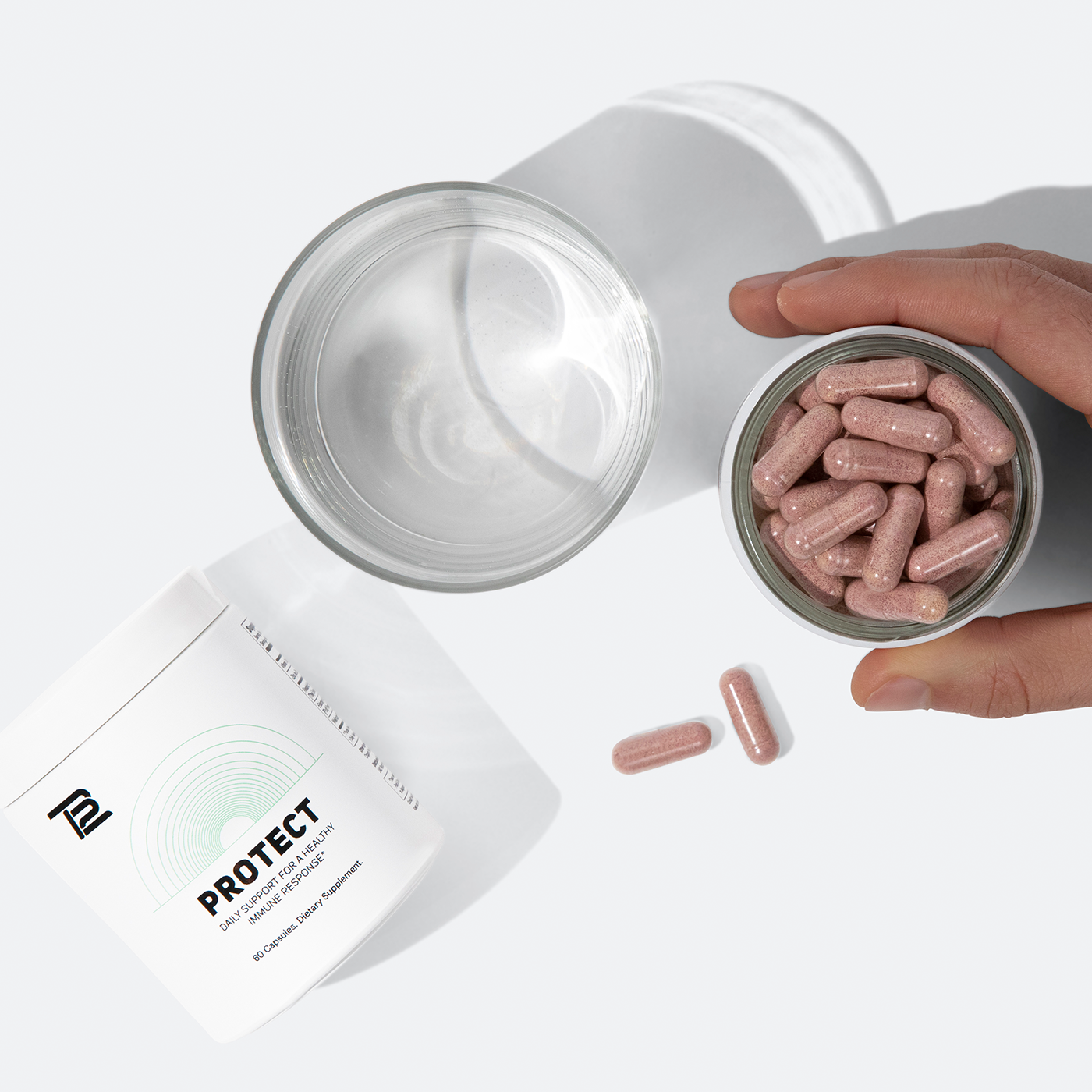 How to Take
Protect is designed to provide daily support to your immune system & help it recover during times of physical & mental stress.
When it comes to your immune health, consistency is key – we recommend working Protect into your daily routine by taking two capsules in the morning, ideally with food.
*These statements have not been evaluated by the Food & Drug Administration. This product is not intended to diagnose, treat, cure, or prevent any disease.
Protect
I take daily and like the product.
Love love love
This is my second time buying protect. I love em because they work very well, I have a torn meniscus and when I take the pills regularly at night I notice a huge difference in the pain level. I would highly recommend this supplement to anyone reading this it's a definite thumbs up…