Recover is your daily movement essential. It's a fast-acting recovery blend designed for the active individual who's always on the go. Inside are four clinically studied ingredients to help support a healthy inflammatory response, muscle recovery, and joint mobility.*

Supports a healthy inflammatory response*

Supports muscle recovery*

Helps improve joint mobility*
Supports a healthy inflammatory response*
Supports muscle recovery*
Helps improve joint mobility*
480 mg Tart Cherry - Promotes a healthy inflammatory response & muscle soreness.*
450 mg Egg Membrane - Helps joint comfort & mobility.*
300 mg Curcumin - A powerful antioxidant & medicinal herb.*
40 mg Boswellia - Supports healthy bones & joints.*
Free from: Dairy, Gluten, Soy, GMOs, and Artificial Colors & Binders.
Directions
Take 2 capsules in the evening, ideally with food.
---
60 Capsules / 30 Day supply
Store in a cool dry place. Do not exceed recommended dose. Consult your physician before taking if you are pregnant or nursing, under the age of 18, or have a known medical condition. Keep out of the reach of children.
READY TO RECOVER
From workouts to work days, recovery supports your muscles, joints, connective tissue, and overall mobility. Without it, soreness & stiffness can impact your ability to move with ease. We designed Recover to help you handle the strain of everyday wear & tear so you can recover fast & live your life in motion.*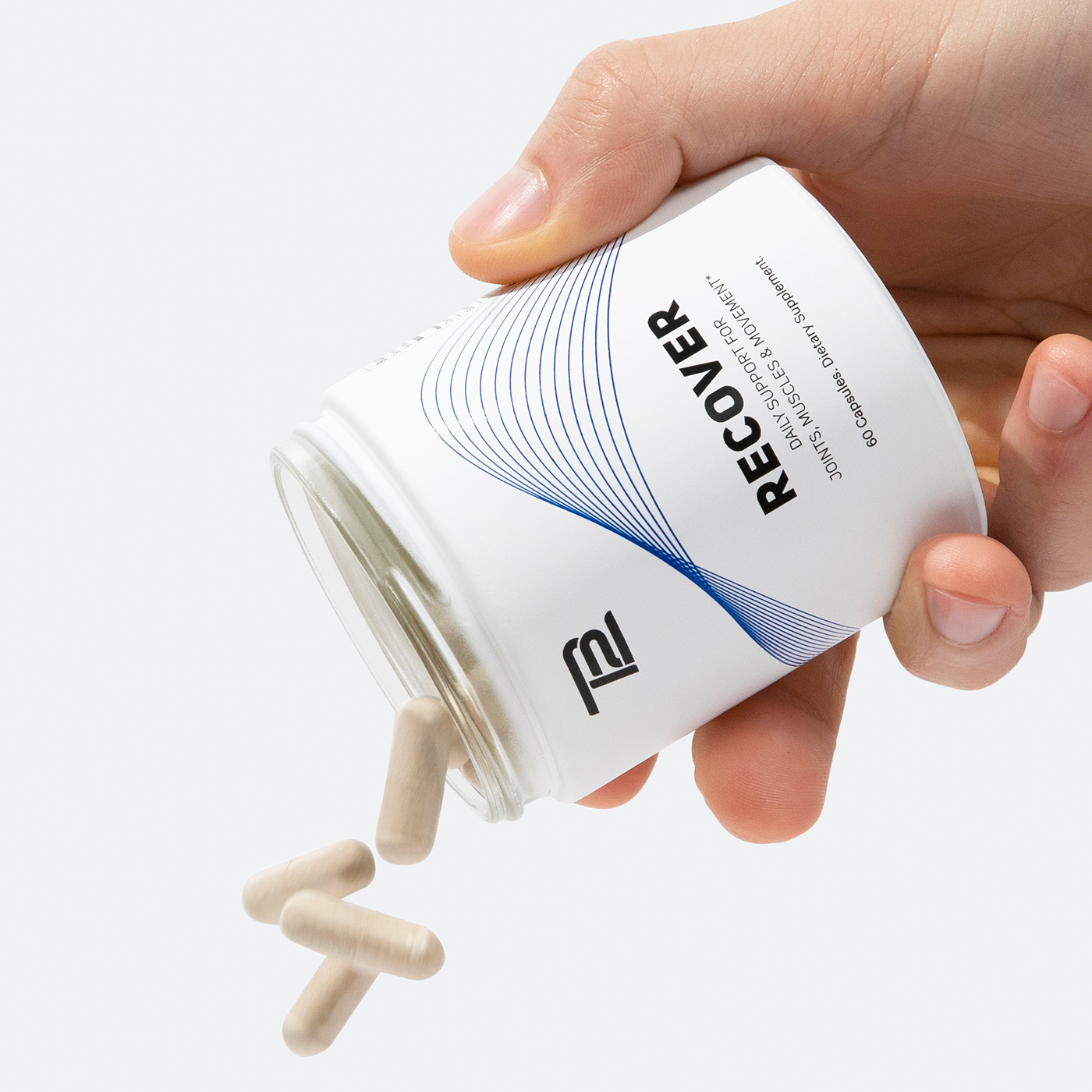 How It Works
Oxidative stress, free radical damage, and exercise-induced inflammation can lead to sore muscles and extend the time your body needs to recover.
The ingredients in Recover work together to aid your natural recovery process, help alleviate feelings of soreness, and support the building blocks of healthy joints like collagen, elastin, and connective tissue.*
Just take two capsules in the evening with food!
*These statements have not been evaluated by the Food & Drug Administration. This product is not intended to diagnose, treat, cure, or prevent any disease.
TB12 Recover does exactly that!
My daughter has been using this after player soccer. It's made such a difference in her energy level after a tough competition. She has so much less soreness and fatigue. So happy to have found something that truly works!
Tb12 recover
Seem to be helping with sore knees, shins and ankles.
High Quality - Great Taste
Extremely pleased with the TB12 offerings. High quality and great tasting protein powder for my daily shakes. Enjoy the excellent tips for nutrition as well.
Makes a Huge Difference
I started taking Recover because of age and exercise related knee issues. As long as I am consistent with taking recover after my workouts, I notice a significant improvement in my knee discomfort.