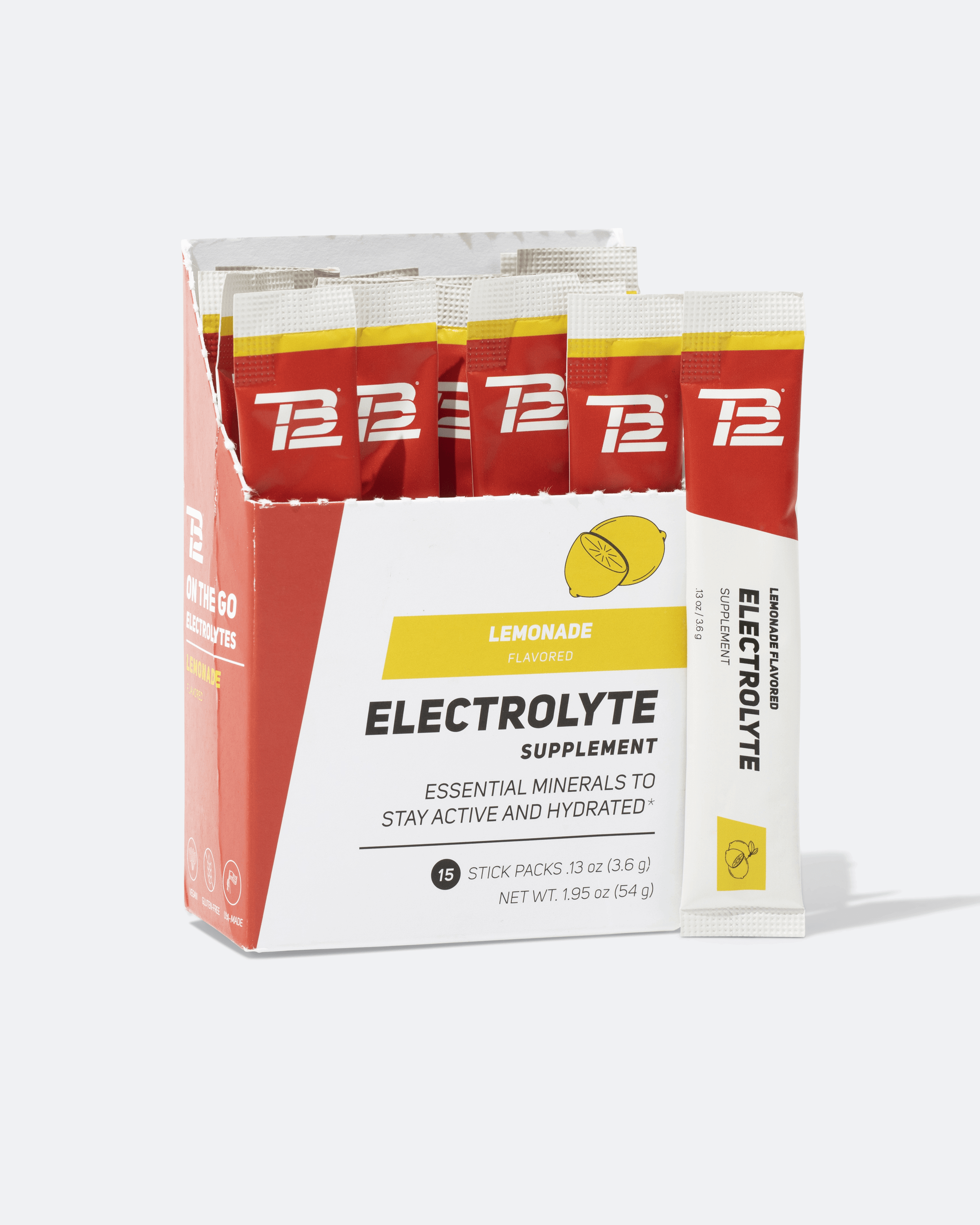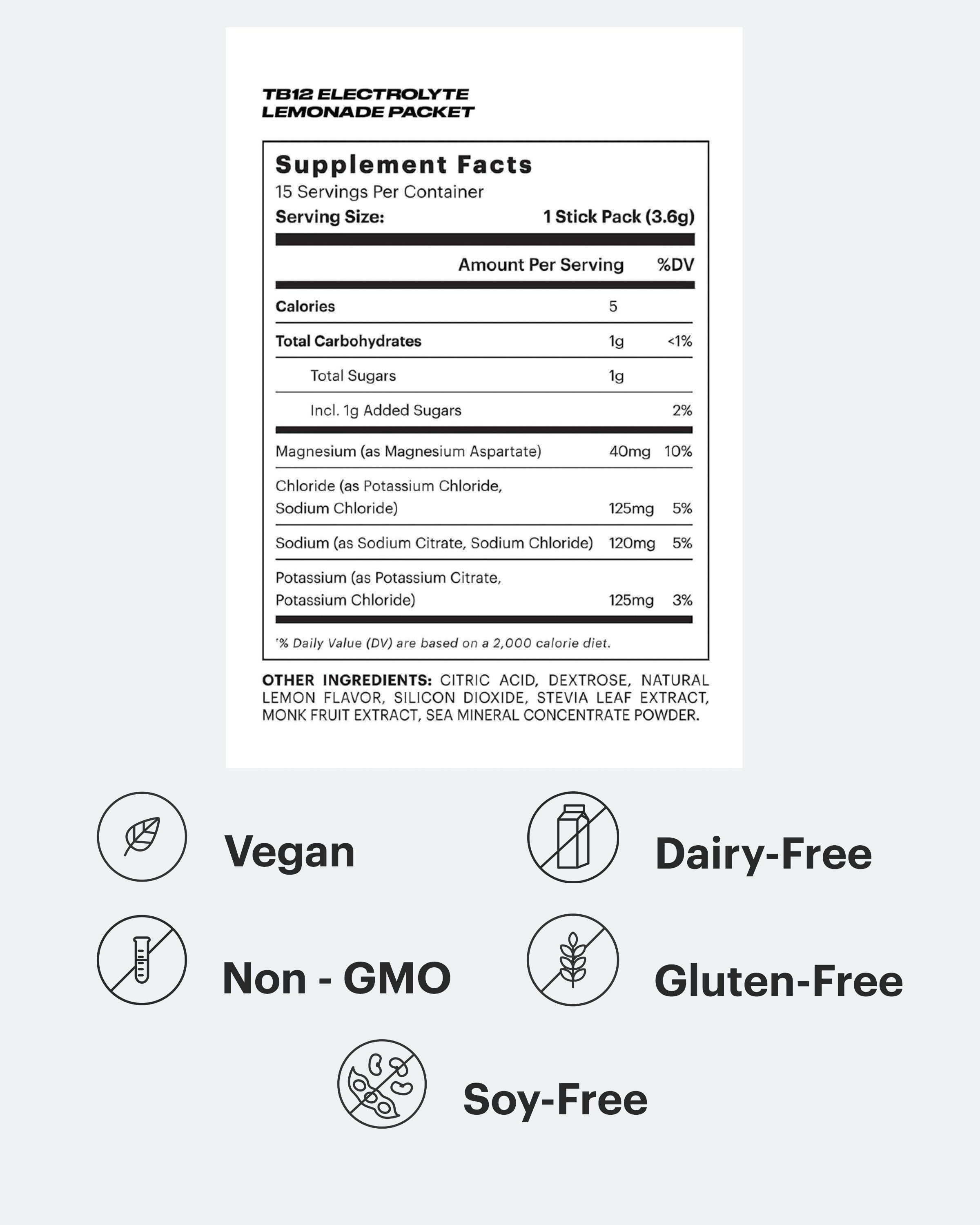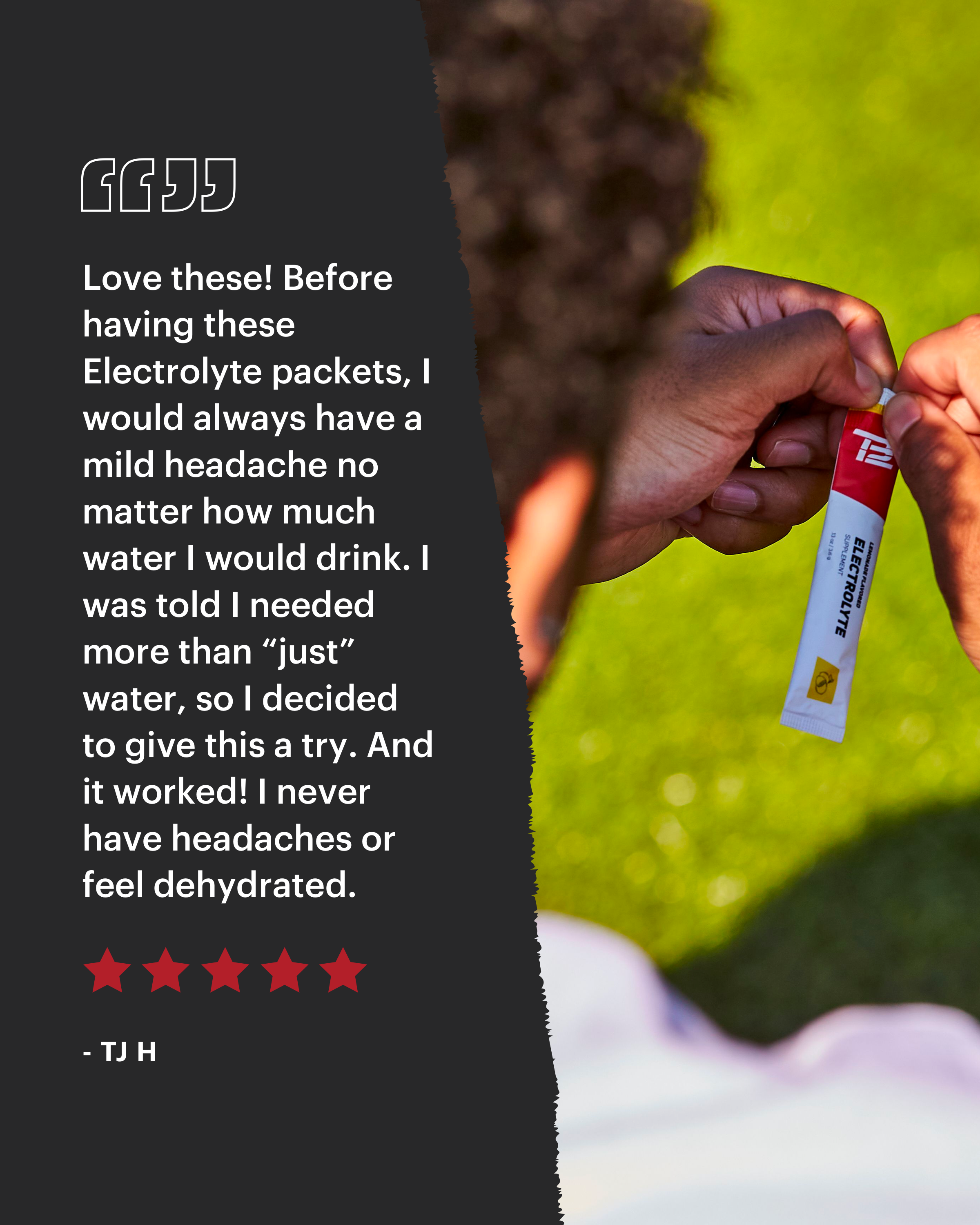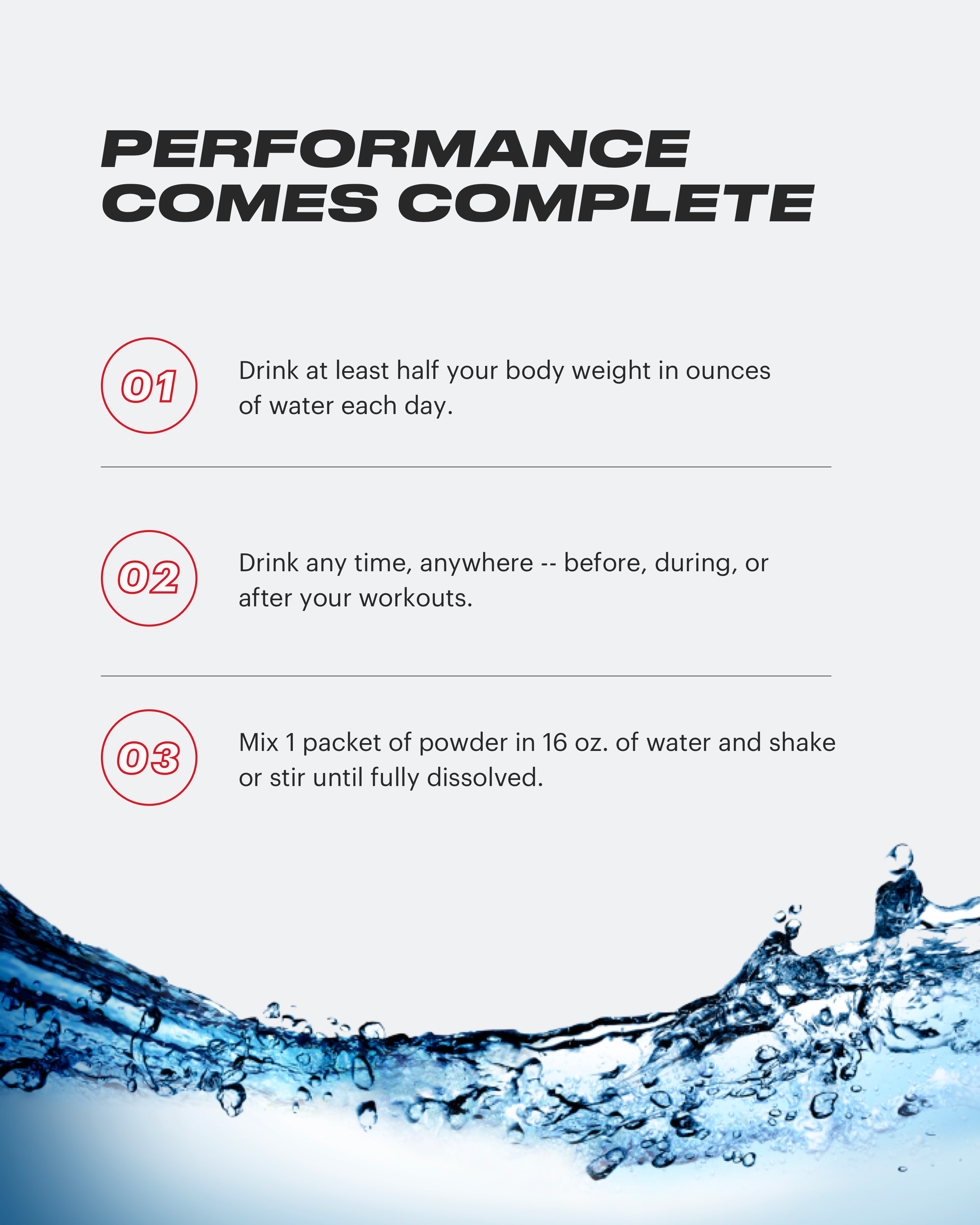 TB12 Electrolytes (15ct Powder)
TB12 Electrolytes (15ct Powder)
Register to receive a notification when this item comes back in stock.
Don't let thirst or dehydration be a drag on your active lifestyle. With TB12 Electrolytes, recovery never tasted so good. They're fast, easy, versatile, and boasting with essential minerals — including 72 trace minerals — to help you stay active and hydrated. Because your water should perform as well as you do.
Fast Hydration*

Supports Muscle Recovery*

Refreshing Flavors
Fast Hydration*
Supports Muscle Recovery*
1 gram of sugar per serving — A simple carb for energy
Contains 72 trace minerals sourced naturally from the Great Salt Lake.
125 mg Potassium - Helps fluid balance.*
120 mg Sodium - Supports muscle contractions*
40 mg Magnesium - Promotes exercise performance.
Vegan
Free from: Dairy, Gluten, Soy, GMOs, and Preservatives
Directions
Mix 1 packet or scoop into 16 oz. of water, shake or stir until fully dissolved. Pairs best with our Sport Shaker Bottle.
Use
Hydration is all about consistency, and building a routine around your lifestyle is key. Add pre- or post-workout, or to supplement your daily regimen.
Recommendation
We recommend drinking half of your body weight in fluid ounces of water daily. This is known as your hydration baseline — the minimum amount of water you should drink daily.
Example: If you weigh 150 pounds, you need to drink 75 fluid ounces of water to reach your baseline.
---
Carton: 15 Individual stick packs / Jar: 30 Servings per container
Store in a cool dry place. Do not exceed recommended dose. Consult your physician before taking if you are pregnant or nursing, under the age of 18, or have a known medical condition. Keep out of the reach of children.
HYDRATION ISN'T ROCKET SCIENCE, IT'S COMMON SENSE
We lose many of our body's natural minerals throughout the day, so it's essential to replenish them. TB12 Electrolytes contain 72 trace minerals sourced naturally from the Great Salt Lake. These elements amplify hydration by helping you fully absorb the water you drink, especially when you're working out.* Electrolytes support everything from muscle function to regulating fluid balance to immune function and cell growth. Tom didn't win 7 Super Bowls dehydrated.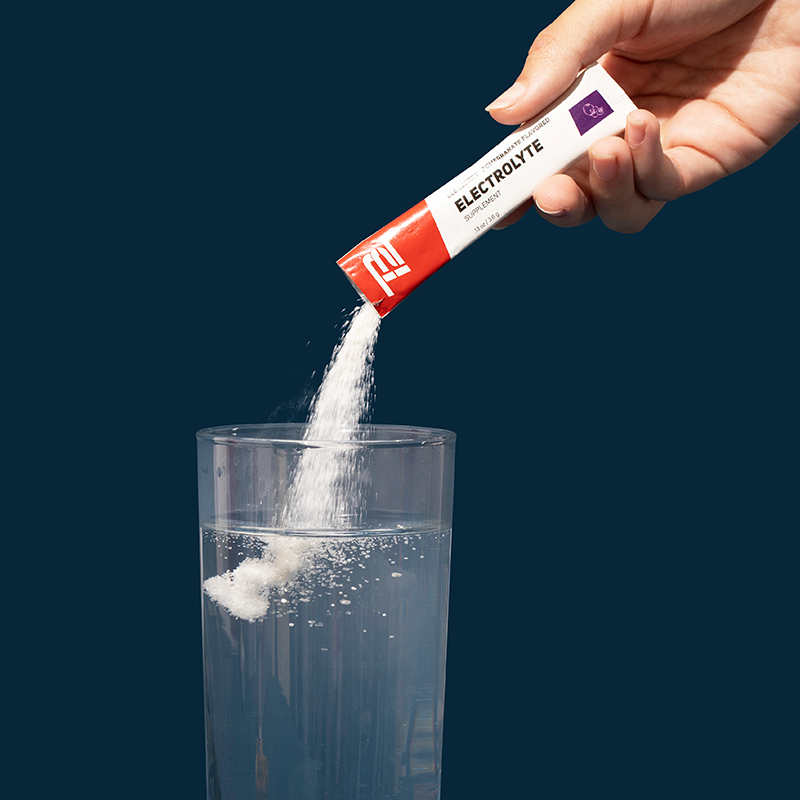 Meet Your
Hydration Baseline
Hydration is critical to achieving pliable muscles. Drinking enough water can be tough.
We recommend consuming half your body weight in fluid ounces of water each day.
Most sports drinks are loaded with sugar, our Electrolytes have just 1 gram of sugar per serving (a simple carb, for energy) & are loaded with 72 essential minerals like sodium, magnesium, and potassium that your body loses through sweat.
Our light, refreshing flavors in convenient single-serving stick packs make it easier than ever to replenish & hydrate on the go.
*These statements have not been evaluated by the Food & Drug Administration. This product is not intended to diagnose, treat, cure, or prevent any disease.
Electrolytes
Love the grapefruit gives me instant energy
Always highest quality
My sister shared a Tart Cherry capsule with me when I was having joint pain in my knee. Because of the relief, I ordered my own jar and sampled several other products including the electrolyte powder. It doesn't matter what you order from TB12; everything does exactly what they say it does. Confidence that the products I order are ALWAYS the highest quality is important to me. TB12 never disappoints! Thank you, TB12!!
TB12 Electrolytes (15ct Powder)
TB12
If it's good enough for Tom it's good enough for me.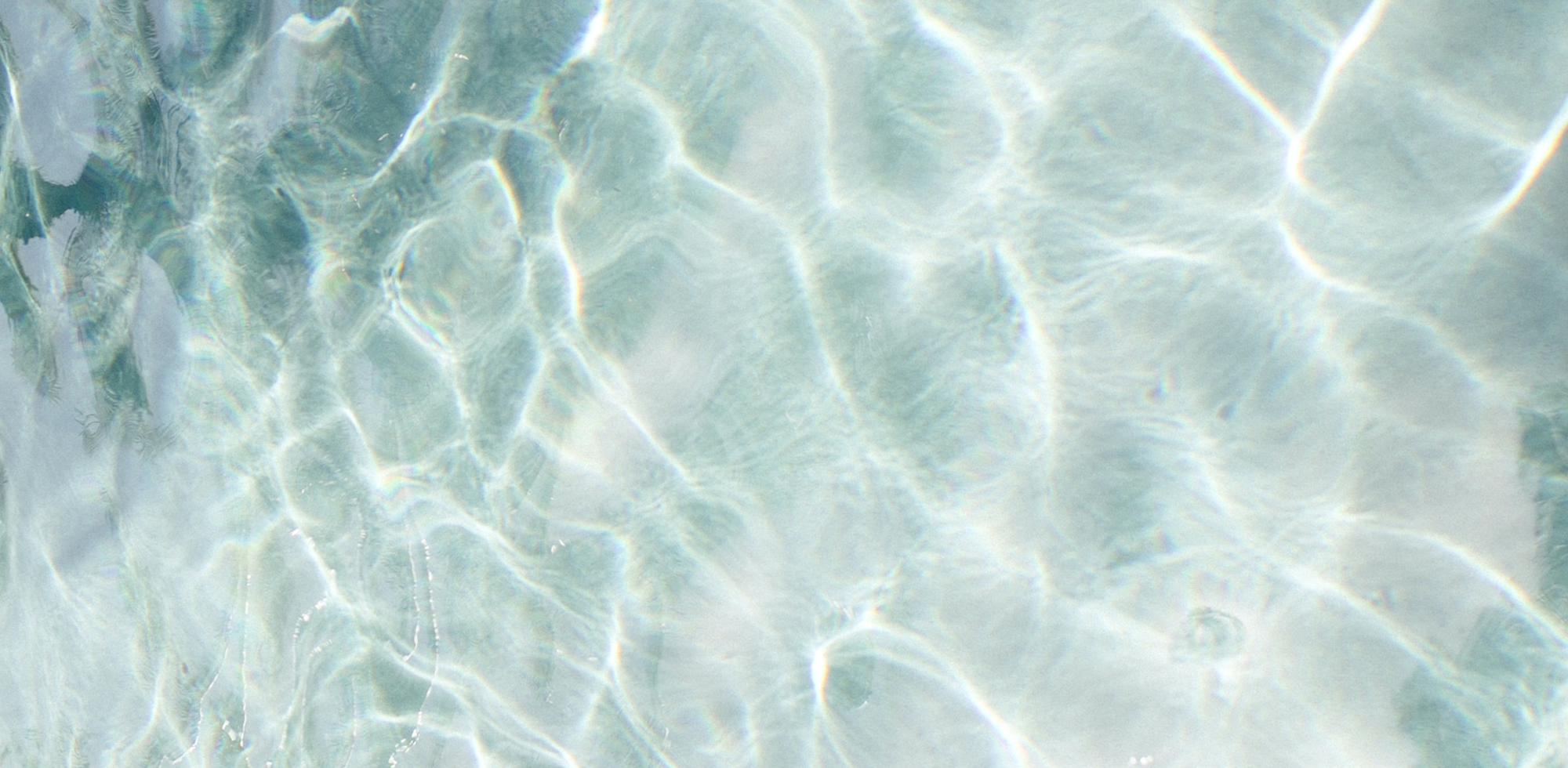 Get Your Free
HYDRATION GUIDE
SMALL HABITS MAKE BIG MOMENTS
Everything You Need To Know
About Electrolytes
SMALL HABITS MAKE BIG MOMENTS