TB12 Pliability Training Kit
Kickstart your strength training routine and enhance your muscle pliability with dynamic resistance. Our Pliability Training Kit combines Light, Medium, and Heavy Looped Resistance Bands that support a variety of functional exercises to help your muscles move without restriction during exercise - a core tenant of pliability. Designed to help you build strength without overloading muscles, this curated kit is ideal for low-impact, active recovery, stability, and mobility workouts.
At home resistance training without taking up space or the hassle of weights.
Portable for use anywhere.
No drills, no holes, no construction.
Avoid strain on joints.
Train with functional movement.
Hundreds of moves & endless workouts.
Promotes total-body activation, targeting all muscle groups.
1 Short, Light Looped Band (Gray): 7 - 33 lbs.
1 Long, Light Looped Band (Gray): 4 - 19 lbs.
1 Long, Medium Looped Band (Red): 7 - 32 lbs.
1 Long Heavy Looped Band (Blue): 11 - 52 lbs.
2 Carabiners
1 Medium Storage Bag
1 Door Anchor, fits doors up to 7 feet.
Directions
Use
At-home workouts for resistance training to allow big, fluid range of motion without strain.
Resources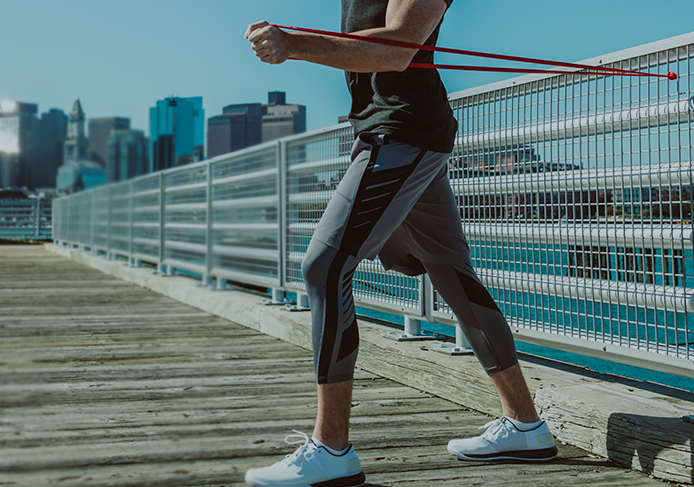 The Benefits Of
Resistance Training
Training with Resistance Bands allows for big, fluid range of motion without the strain.
They help build strength & power while keeping your muscles more supple & less dense than they would be if you used heavy weights.
By targeting accelerating & decelerating muscle groups at the same time without overload, bands can mirror your body's normal, everyday functional movements.
The kit has been quite beneficial in allowing me to continue doing my workout routine from virtually anywhere. Great product.
Pliability starter kit
An excellent alternative to weight training traditionally with dumbbells. The risk of injury is much lower and the constant time under tension using bands will give you significant results quickly.
TOTAL BODY
Strength & Conditioning Guide
Vibrating PLIABILITY Devices
How To Get Started