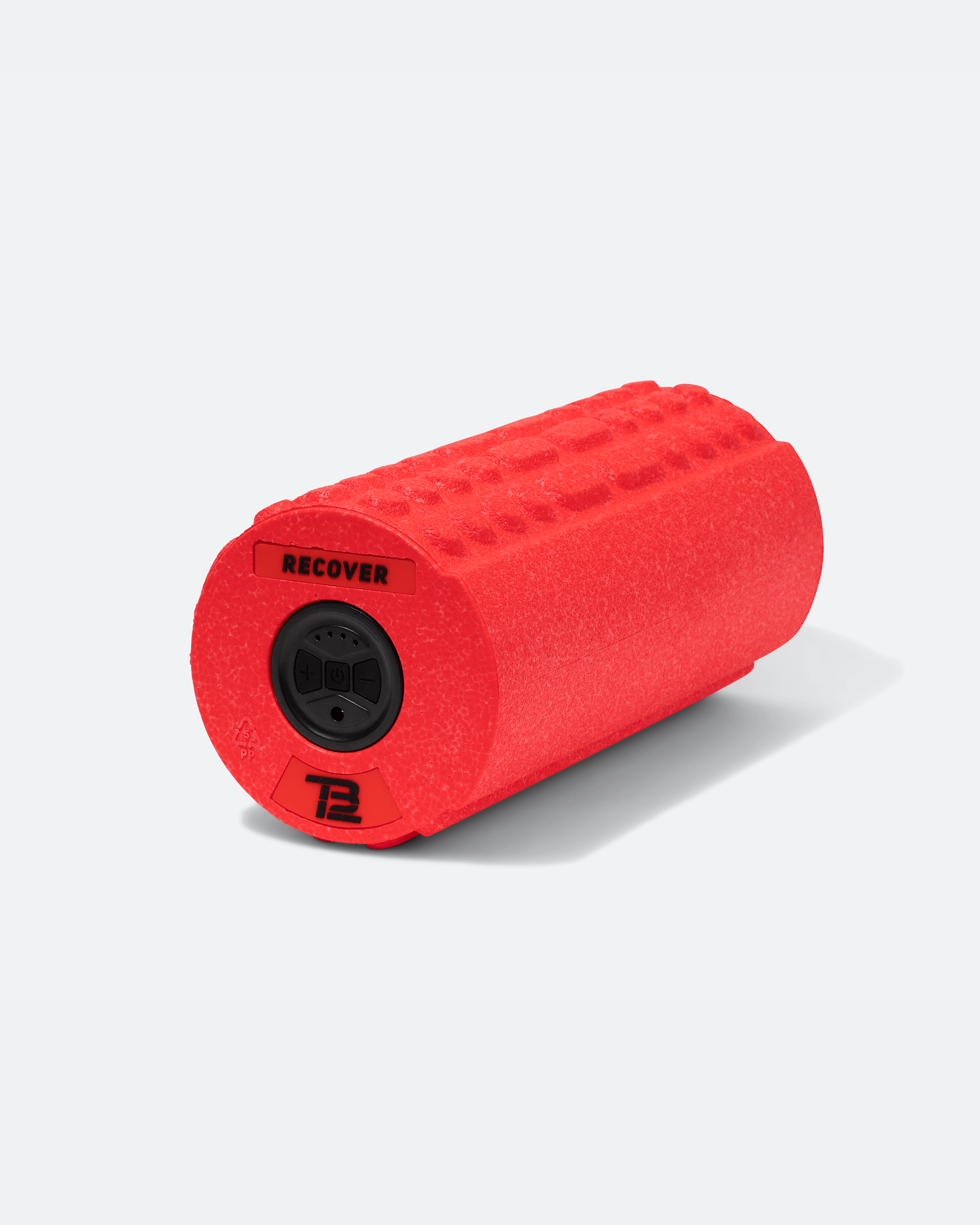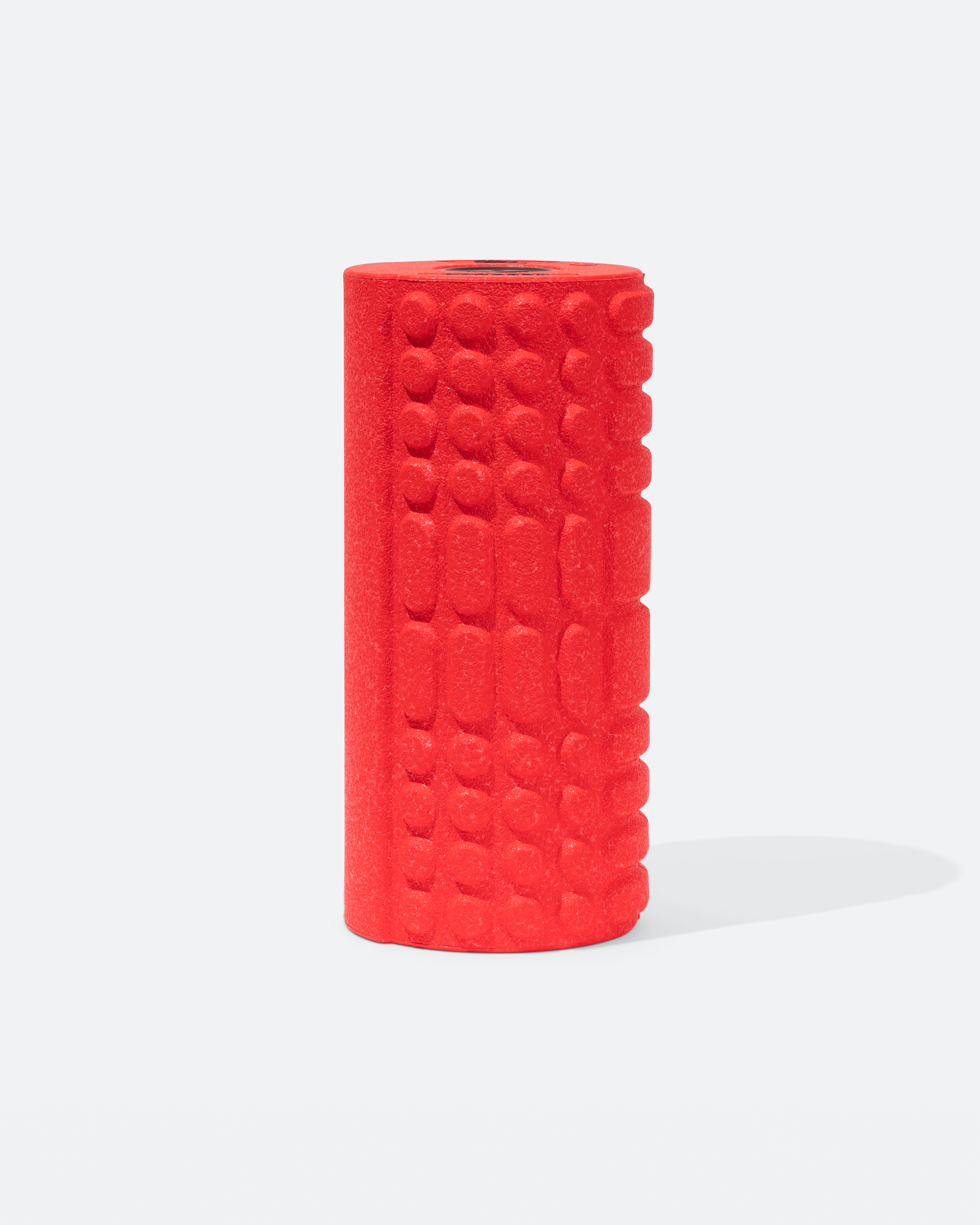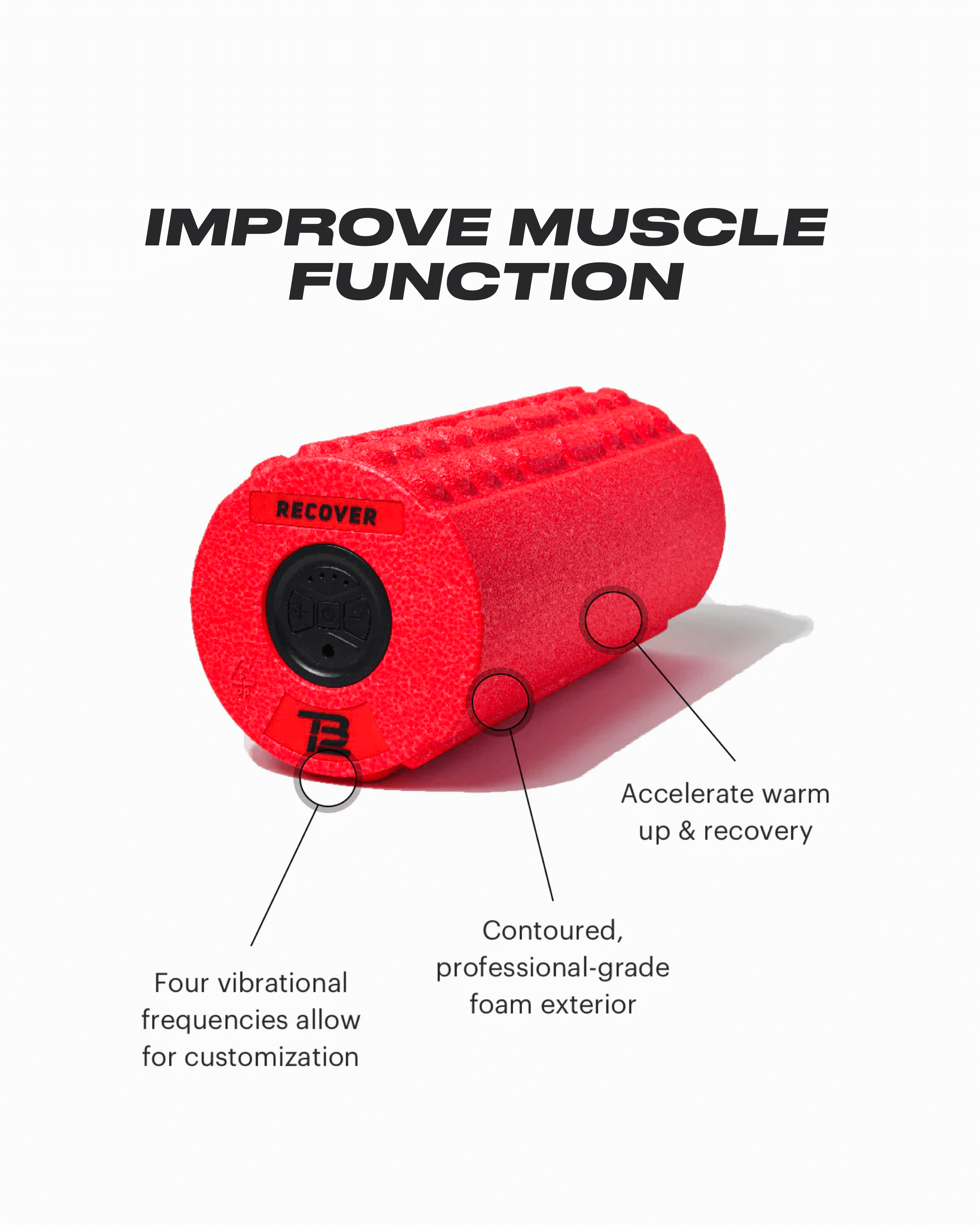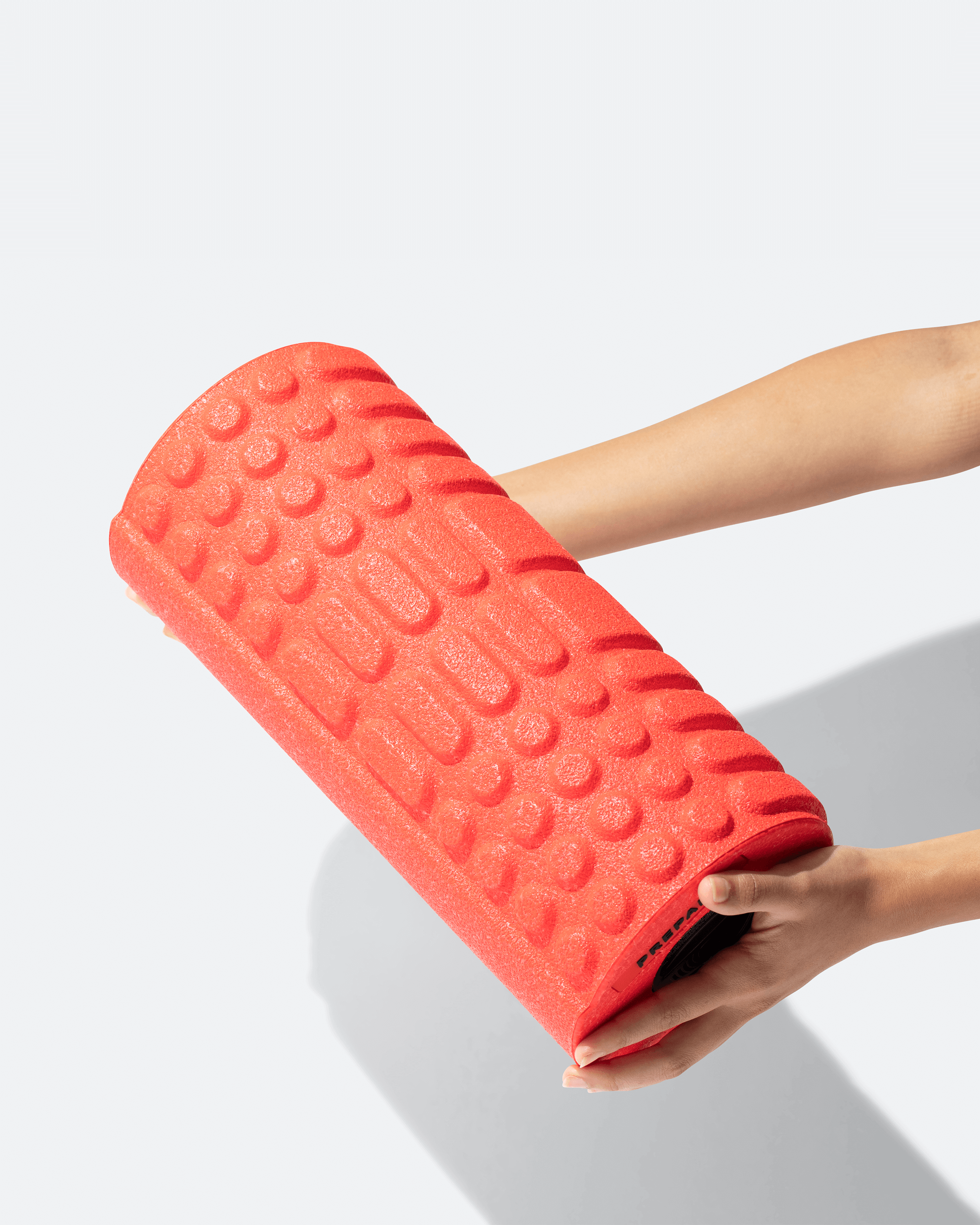 TB12 Vibrating Pliability Roller
Warm-up. Cool down. Relieve tension. Improve recovery. Avoid Pain. Our Vibrating Pliability Roller merges muscle-stimulating vibration therapy with a professional-grade foam exterior, with a range of contours to target specific muscles for an efficient, full-body foam rolling routine. With a wide, grooved surface area, this roller makes it easier than ever to roll out large muscle groups and reap the benefits of self-pliability work.

Accelerate warm-up and recovery
Ideal for large muscle groups (quads, hamstrings, back)
Bi-directional frequency selector for easily varying intensity
Ideal for large muscle groups (quads, hamstrings, back).
Accelerates warm-up & recovery, improves muscle pliability.
Alleviates soreness & tension for better mobility through deep-tissue manipulation.
Helps develop positive brain-to-muscle neural pathways.
Contoured foam exterior makes it easy to apply additional pressure & work muscles deeply while keeping the Vibrating Pliability Roller in place.
Bi-directional frequency selector for easily varying intensity.
1 Charger
User Manual
1-year warranty
Try the TB12 Mobile App for free to access more exercises & information about how to us this device.
Directions
Press the power button once to display available battery level, twice to start the vibration.
Use the (+) or (-) button to toggle between vibration levels.
Hold the power button for 3 seconds to turn off the device.
Use
Use in pre & post workout routines to help the body recover from injuries & protect against them.
Recommendation
We recommend using the Vibrating Pliability Device pre & post workout to properly prepare & recover muscles, & stimulate your nervous system to function efficiently.
TB12 Tip: Consistency will assist in maintaining muscle pliability.
Visit our YouTube channel for videos on how to use our Vibrating Pliability Devices.
Dimensions: 5.9 inches x 12.2 inches.
Weight: 2 lbs.
Load bearing capacity: 330 lbs.
Approximately 3.5 hours to fully charge.
Four Vibrational Frequencies:
Level 1 - 2100 RPM | Level 2 - 3000 RPM | Level 3 - 3500 RPM | Level 4 - 4000 RPM
The AC adapter is compatible with standard American 120V outlets & is not compatible with other outlets.
*Before using, consult your health care provider if you are pregnant, have a medical implant, circulatory disorder, or injury.
Made in China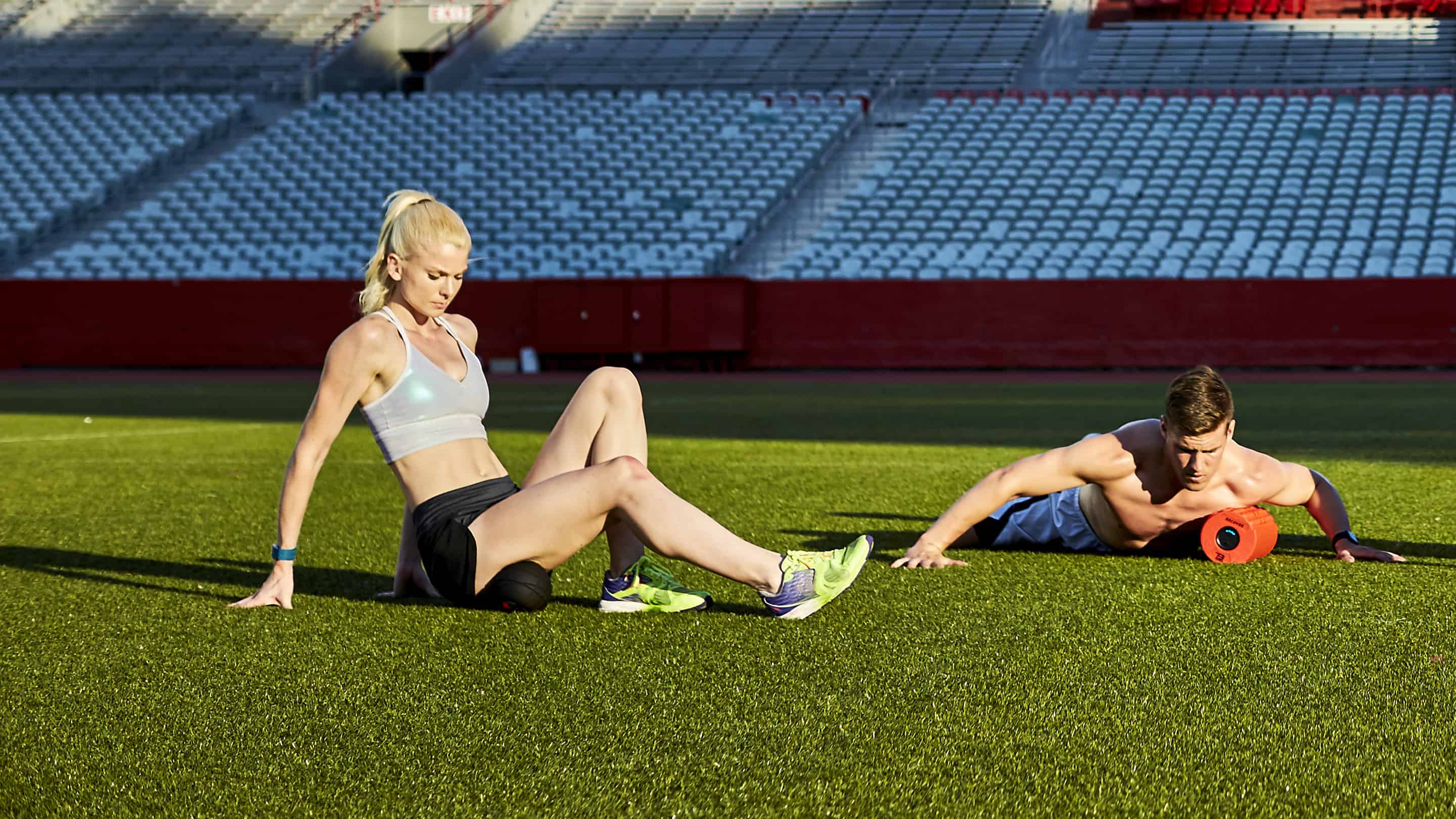 Vibrating Pliability Device
Powers Brain-Body Stimulation
The Vibrating Pliability Roller relies on four vibrational frequencies to help develop positive brain-to-muscle neural pathways, improving muscle pliability & recovery.
Pliability is the state in which your muscles are long, soft, & resilient, priming them for efficient performance & reducing the chance of injury.
You can incorporate rolling into your daily routine whether you are training for sport, working out, or simply on the go.
Pliability roller
Game changer! Just like TB.
Yes & Thank You!
This is my first pro-grade foam roller! The dimensions are incredible and the multi-textured surface is simply smart! I was oddly sore, so it took awhile to add and adjust to the vibrations. Yes, TB12 — really appreciate this product so much 💯!
Making a difference
Fortunately I had some good videos from my visit to the TB12 training center. It would be great to have access to all ways to leverage the roller. After a couple weeks I have become more rehearsed at how to best leverage the roller which has been a great supplement to my daily activities.
Roller
I am very happy with the product.
TB12 Vibrating Pliability Roller
Vibrating PLIABILITY Devices
How To Get Started
TOTAL BODY
Strength & Conditioning Guide